2011 Year in Review – August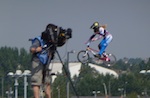 TV money now inevitably means that the winter sports start while the summer sports are still in full swing, and across Europe the football leagues ratcheted back into action while the cricket was still being played. SVGE also paid what will no doubt be the first of many visits to the Olympic Park, while the BBC headed north.
ESPN prepares for EPL kick-off
At 17.30 on Saturday 13 August, the long drought will be over and the first televised English Premier League game of the season will be transmitted as Newcastle host Arsenal live on ESPN. Andy Stout talks to Jeroen Oerlemans, Head of Channels ESPN EMEA, about the plans for the coming season.
The French Championship of League 1, one of the highest profile football leagues in Europe, began at the start of August. A few weeks earlier, the LPF (the professional football league) sold the various lots of football rights for the competitions, with the result that more television channels and more broadcasts are expected.
Weather permitting, the Fourth Test starts today as England take on India at The Oval in London. Cricket, especially the five-day long Test match version, might seem the most genteel of sports, but Hamish Greig, Technical Director at CTV which undertakes the coverage for Sky Sports, likens it to a FA Cup Final taking place for five days in a row for the crews involved.
View from the (Olympic) compound
So, with 342 days to go, what can we make of Olympic Park after a visit down to the BMX Supercross?
With the Olympics heading for the capital, it's perhaps slightly ironic that BBC Sport is moving out of London and heading up to Manchester. But with a wholesale move towards file-based HD and 5.1 production as well, not to mention a dramatic improvement in working environment, it all makes sense. Besides, the BBC wheels were set in motion long before the Olympic rings started revolving.