2011 Year in Review – December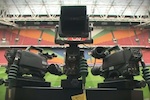 And so our look back at the sports broadcasting events of 2011 concludes inside TopVision's Ü2 OB truck, hears news of Canal+'s use of new tech on the latest classico, and, of course, we have a brace of reports from SVG's League Technology Summit out in New York. Happy New Year…we have the feeling that 2012 is going to be something special…
Canal+ uses Sony Picture Stitch and DAV on classico
The recent classico Olympique de Marseille/Paris Saint Germain premier league championship match (produced by Laurent Lachand) and aired live on Canal+ was the first French match to benefit from the Sony system that combines both new images and a new content enrichment tool.
Inside TopVision's Ü2 OB – the Bundesliga 3D truck
Since 2011, TopVision's Ü2 OB truck – a vehicle packed with the latest 3D and 3G enabled camera and video systems and a new AURUS-based audio control workspace – has been used to produce the top match of the German Bundesliga in 3D for Sky satellite TV and the IPTV platform LIGA Total.
League Technology Summit: telling the story
The SVG's League Technology Summit kicked off by concentrating on the story and looking, from both a director's and a producer's perspective, at the pressures and demands of producing sport in a multi-platform environment undergoing constant technological innovation.
League Technology Summit: looking at the second screen
The growth of the second screen was one of the surprises of an IBC that was expected to be dominated by all things 3D, and the panel session at the LTS pointed towards it dominating a lot of the discussion in 2012 as well.
League Technology Summit: truck tales and more
Networks, leagues and the truck companies all debated in separate sessions in the afternoon, but the trucks kept parking in the middle of most conversations.