League Technology Summit continues to grow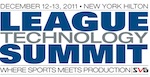 It might be a long way over the Atlantic in New York, but each year the SVG League Technology Summit not only serves as the global highlight of the Sports Video Group calendar, but also attracts more and more visitors from beyond North American shores. This year's two-day event at the New York Hilton on 12-13 December promises to be bigger and better than ever too, featuring more than 50 exhibits, panel discussions on the hottest topics in the industry, and plenty of invaluable networking time.
The conference programme continues to grow, and at the moment sees a host of industry leaders addressing topics that include:
Producer Perspectives: Keys to Success
Directors and the Art of Storytelling
Sports and the Synchronous Screen: Redefining the Viewer Experience
Network Perspectives 2012: State of the Industry
Truck Tales: State of the OB Business
League Perspectives
Closing Conversation: Inside the Pac 12 Network
In addition, the first day of the Sixth-Annual League Technology Summit will once again feature a trio of technology workshops designed to better meet the information needs of the industry, which are thus open to all registered League Summit attendees and sponsors alike. The aim is to create an environment promoting open dialogue between all attendees, and this year the three workshops will focus on Audio (led by the DTV Audio Group), Remote Sports Production and Engineering, and Next-Generation TV.
Stay tuned to the event's Official Website for programme updates and details, speaker announcements, workshop information, and pretty much anything else you may need to know about the event. And, of course, Click Here to register. Questions? Please get in contact and we'll do our best to answer them.