3Zero2 TV focuses on the customer experience as it embraces the decentralised remote production trend
In just 18 months the broadcast landscape has radically changed. Driven by the pandemic, 2020 will certainly be remembered as the year of streaming and remote production. Indeed, the desire for on-demand content and remote production have reached peaks never before seen.
All the main players in the media sector have had to adapt to new ways of working and those, like 3Zero2 TV – one of four EMG subsidiaries in Italy – that had already travelled these paths for some time, simply pressed harder on the accelerator.
Although we are now increasingly realigning towards a certain normality, many webcast platforms, live event companies and video producers and broadcasters that have moved to remote production will maintain these production procedures in the future, even post-pandemic.
Live on compressed budgets
It should be noted that many in the industry point out that this period has done nothing but accelerate a revolution already underway and that remote video production and virtual events are certainly not new concepts. Indeed long before the pandemic, 3Zero2 TV had proposed remote production as the standard for live productions, even with "compressed budgets".
Gennaro Lenci, who is responsible for the MCR and remote production business of 3Zero2 TV, says: "As recognised protagonists in the remote production sector and managers of virtual event platforms we have only accelerated the pace a little [in the past year]. In fact for some time we have implemented IP and web-based infrastructures capable of hosting virtual events with remote participants and broadcasting live video from remote venues to a large audience both online and on linear TV.
"This has allowed us, for some time now, to continue with a complete and capable production offer, simply by refining mechanisms that are no longer experimental but are more than verified.
"Even the sudden influx of new users, catalysed by the practicality and cost-effectiveness of remote production, has not created any interruption of flows or discontinuities on our production platforms and structures."
"In 2020, the biggest challenge was scaling fast enough to keep up with massive demand, while maintaining the same level of professionalism and managing customer expectations"
The reliability of 3Zero2 TV has also reflected on the service providers who have trusted the company and who, therefore, have been able to grow fast enough to meet demand with new ways to expand their offer.
Indeed, in the past year 3Zero2TV has focused on improving the customer experience and expanding feature sets. This has been achieved by including more advanced and scalable approaches to remote production and video quality in the offering, as well as by seeking even more reliable methods for remote contribution.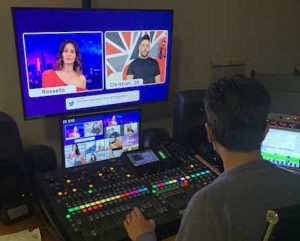 Lenci adds: "We wanted to ensure the highest quality of remote contributions, to help translate in-person events into virtual events and then integrate them into a stable offering.
"Realising that timing would be key, and also pushing the accelerator on connectivity – where exponential growth had already been planned – we have expanded all our services through integrations and partnerships to help meet new customer needs.
"Proof of this, for example, are the dedicated connections with the Milan Internet Exchange mix at Caldera Park, the interchange point where all the service providers from all over the world converge.
"In 2020, the biggest challenge was scaling fast enough to keep up with massive demand, while maintaining the same level of professionalism and managing customer expectations. Thanks to the company's previous experience with remote production workflows, it has been much easier for us to adapt to the new reality and multiply television and streaming products in remote production, even using more streamlined equipment and codecs that virtually eliminate delay.
"This allows us to follow even small independent customers and producers, such as clubs and teams, and help them continue to grow, allowing them to be ready to scale up or down their operations as needed to keep up with demand."
Remote production and home production
Companies also needed to quickly find ways to decentralise their production suites and allow AV staff to work remotely. To this end, since the beginning of the pandemic 3Zero2 TV has installed workstations at home that allow online collaboration, and individual production roles such as audio mixers, GFX operators, highlights and producers now have full access to workstations from home.
Where it has not been possible to transfer the equipment, staff are able to manage the direction in the company's headquarters in Milan Deruta and Cologno, remotely, from home or from the venue. Some talent and hosts have even set up video sets at home, complete with professional lighting and green screens.
Existing AV-over-IP technology and multiple in-house implementations have simplified the transition to decentralised remote workflows, while a robust backchannel system for communication is key to keeping everyone connected during remote operations.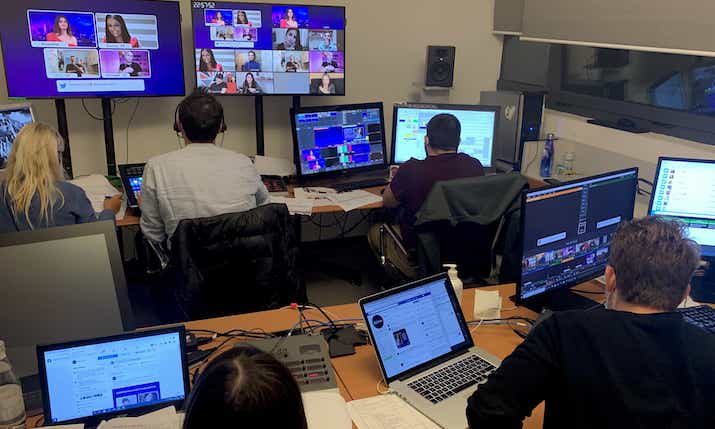 There have, though, been challenges with remote production, most notably controlling the video quality of the remote contribution and the reliability of the signal.
Despite this, in the past 18 months, many have realised the huge savings and production rationalisations that are possible by decentralising staff and virtualising studios. In this decentralised paradigm that will certainly continue in the future, the main objectives will be the continuous improvement of remote infrastructures and the optimisation of internal team communications.
It is also clear that there is great potential to introduce truly innovative remote manufacturing products and services that may someday soon become industry standard.