4K six-camera shoot is hit for NT Live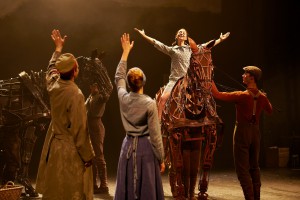 National Theatre Live has set major 4K and HD transmission achievements with War Horse thanks to engineering assistance from Sony, NEP Visions and Links Broadcast, writes George Jarrett. Simultaneously, from one 4K six-camera shoot at the New London Theatre in Drury Lane, 36Mhz of satellite capacity was used to feed synced quadrants to a Sony RF515P projector at the Curzon Cinema in Chelsea, and 750,000 people sitting in 1,000 cinemas in 30 countries saw an HD version.
NT Live manages its own productions through producer Emma Keith and her engineering partner Chris Bretnall, and both have worked on a number of high profile HD theatre projects since 2009. Why the jump to 4K?
"It is great for us to be doing something innovative at the forefront of technology. NT Live is all about recreating that theatre experience," said Keith. It was Bretnall who conducted the feasibility studies into 4K technologies starting back in November, and pressed the go button.
"I am not sure all the elements of 4K were in fact ready when we decided to go for it, but I took a calculated risk in continuing with the plan," he said. "Research with peers and vendors kept me informed of the chance of pulling it off."
On the creative side, TV lighting director Bernie Davis adapted the War Horse theatre lighting. Brighter projectors were required, and the usual haze and smoke had to be reduced for camera noise reasons. All the wigs and facial hair had to be remade with HD lace.
"We do two full rehearsals before we go live, so the actors are able to get used to the cameras," said Keith. "They already have radio mics, although some of the positions were changed, and some of the mics had to be upgraded."
The first camera rehearsal was watched back on a cinema screen in 4K to make sure the camera positions, lighting and mic placements were right. A pre-show rehearsal was an opportunity for director Tim Van Someren to confirm he was telling the story, and confirm that all the technology worked.
Bretnall addressed the technical problems. "We normally have to sync our HD pictures to the delayed Dolby Digital. For the 4K transmission we first had to sync the four quadrants of the picture and also embed the Dolby Digital onto the quads too," he said. "Another challenge was making sure the quads stayed perfectly timed coming out of the (decoders in the cinema and into the projector. The Dolby audio then had to be resynchronised to match the delay in the cinema decoder/processor."
Bretnall and Keith hold a 4K DCP master, and NEP Visions recorded 4K ISOs for later use as well. The cameras used were PMW-F55s. They carried Fujinon Cabrio lenses and produced simultaneous 4K and HD signals via a fibre adaptor.
Speaking for NEP Visions, Commercial & Technical Projects director Brian Clark said: "The cameras were pre-production hybrid models shipped in from Japan and Europe especially for the project, with a CA4000 adaptor and BPU4000 processor. There were technical issues around the handling of 1080 50p, 1080i and PAL from the snoop cameras, and there were picture sync issues as well because the four quadrants had to be lined up for projection."
Speaking for Sony, Mark Grinyer, program manager World Cup 2014, said: "The NT Live production team pushed us really hard to make this happen. Doing it in a real cinema with paying customers, and making sure those people were going to get what they expected made this different. Getting into the projector was the key area."