4K stitching: a first for the Parc des Princes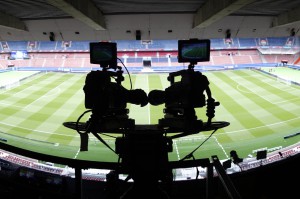 While the PSG ''Qataris'' (the Parisian Football Club is owned by Qatari shareholders) were playing against Monaco recently, Sony's pro department and the services provider Euro Media France carried out trials  of a new 4K technology: the 4K stitching system to be exact.
Stitching consists of assembling footage from  two (or more) cameras to create a panoramic picture that would be impossible to obtain with a single camera.
Two Sony F55 cameras equipped with CA-4000 type adaptors and Cabrio 19-90mm lenses (supplied by the manufacturer Fujinon) were installed in the commentary booth at the centre of the press box. The two 4K signals were recorded on a Sony XAVC PWS-4400 video server.
Images supplied by the server were then fed into a stitching workstation where they were blended to form a complete panorama of the football field in which two virtual cameras were used.
Installed in Euro Media's  XXL2 OB unit, operators of the virtual cameras cut out images in real-time by moving around and zooming in, horizontally and vertically within the panoramic image, therefore making it possible to find precise details of the match.
Something happening out of the 'traditional' camera frame could therefore still be found and be selected by Laurent Lachand, the director working on the production of this match for Canal+, the pay–TV channel.,
"Stitching is above all useful for editing as it allows focusing on something happening far away from the main action of the game. It can be considered as football's 'big brother is watching you' technique where even the slightest detail will not be overlooked," explained director of sports technical operations for Euro Media France, Jean-Charles Harbonnier.
Although production and broadcasting are only in HD (sometimes even only in SD for certain TV station broadcasts) the use of 4K in this case seems to make perfect sense.
On the subject, Norbert Paquet, Sony's product marketing manager for Europe, remarked: "This application makes it possible to use Ultra High Definition for current HD productions. Easy integration of cameras and the server in the existing infrastructure of the OB units makes for rapid setup, allowing for immediate use by production teams. [It's] proof that 4K technology development has advanced well and is ready to be deployed."
Other 4K stitching trials could take place in the very near future. Of course, team sports like football taking place in large areas come naturally to mind, with rugby possibly being the next playing field where this solution could be applied.