Red Bull Media House takes to the heavens for Stratos project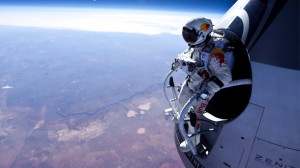 This summer the production facility will take to new heights, literally, when Felix Baumgartner dons a space suit, gets to an altitude of 120,000 feet, and takes a dive in what will be the highest "base jump" ever. Known as "Red Bull Stratos," Red Bull will produce live TV coverage of the event and offer several different channels of content: an international feed, a German-language feed, a clean feed, and one with additional graphics and information.
There are still many parameters and details to be completed but Andi Hoss, Red Bull Media, creative director, says expectations are building.
"We already have 150 TV networks signed on to carry it and there are still four months left before the actual jump," he says. "It will be an HD multicast but also have graphical data available through Web."
All camera systems being used for the Red Bull Stratos mission have been personally designed and developed by the mission's director of high-altitude photography, Jay Nemeth of FlightLine Films. One of only a handful of "zero-G" qualified cameramen, Jay Nemeth has logged zero-gravity flights for various projects, including a shoot with Apollo 11 astronaut Buzz Aldrin. In addition to being comfortable in zero-G and high-G environments, he is familiar with the specific camera systems that work well in these conditions.
The Stratos project mirrors the meteoric rise of Red Bull Media itself. Based in Salzburg and launched only five years ago, it now produces 350 events in 140 countries around the world every year.
"We're producing 35 hours a week of footage for live sports and other events," says Hoss. "The Red Bull brand is for consumers but we are enhancing it and making it a media brand."
The Red Bull Media brand is probably best know for the Red Bull Air Race, a series of air races that began in 2003. But Salzburg is home to all of the technical operations and most of the editing facilities for a company that has expanded into a number of new disciplines. The all-HD facility is also completely tapeless, a move that was a challenge in the early days but has become much easier over time and simpler than running concurrent SD and HD workflows.
"The essence of what we do is make the emotions in our sports as transparent as possible and communicate them to the viewer," explains Hoss. "We are standing at the beginning of a [new era] when media for sport will transport the emotions from the event to the user as thoroughly as possible."
Among the media brands managed by the company is Red Bull TV, RedBull.com, Red Bull Mobile, Red Bull Records, Red Bull Radio, and Red Bull Content Pool, a repository of more than 2 Petabytes of content related to Red Bull events that can be accessed by TV stations and Web sites. And Terra Mater is a documentary division that produces content for the BBC and Bulletin in France.
At the heart of the facility are 21 Vizrt graphics engines, six dual channel units, eight Viz Trio systems, 2 Vizrt graphics hubs, and 10 custom-built control applications.
Rigo Frietag, Red Bull Media House, project manager for TV channel operations, says an effort that goes beyond sport is Servus TV, a network that was planned four years ago and is aimed at covering the Austrian lifestyle that is often based around eating, farming, and the "good life" in the Alps.
"The funny thing is now we are seeing in Germany a lot of marketing around feeling at home, cozy, and eating," he adds. "So we now have full 1080i feeds for Austria, German, and Switzerland as well as SD feeds, feeds for the Web, and even an iPad app."
But sport, like the Red Bull air races and Red Bull X Fighters, an international freestyle motocross competition, continue to drive much of the excitement among viewers around the world. And cost-effective HD productions are important.
Red Bull X Fighters, for example, has a small OB van and one operator producing six feeds and even handling the judging interface.
"A lot of broadcasters don't have the time to broadcast the full two hours so they get a news cut with a graphics package that is built at the same time and ready to go with the rest of the footage after the event," says Hoss.