5G to transform the fan experience at sporting events
AR and VR fuelled by 5G set to take off in-stadium and at home, but eSports gets 5G caution
For most sports fans, their first experience of 5G is likely to be at a live sports event, according to the findings of a new study.
Based on research conducted by Ovum for Amdocs, a provider of software and services to communications and media companies, 5G will transform viewing both in stadiums and at home through the introduction of augmented and virtual reality experiences.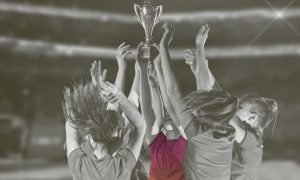 The research suggests that 76% of network operators in Europe plan to offer augmented reality (AR) services over 5G in support of sports events, bringing fans closer to the action.
Promising speeds up to tens of times faster and lower latency than 4G, 5G opens up the possibilities for new types of entertainment and in-stadium experiences. 5G will also transform the at-home viewing experience of sports events, with 88% of European operators planning to offer new multi-screen pay-TV services.
Catalyst for immersive experiences
On how 5G will transform the fan's experience of sports, live both in the stadium and remotely, Gary Miles, chief marketing officer at Amdocs, told SVG Europe: "5G is set to be the catalyst for a range of new immersive experiences for sports fans. Offering download speeds many times faster than 4G networks, and better response times too, 5G opens up possibilities for new digital services for fans, both in stadiums and at home.
"In terms of stadia-based services, our research shows that 63% of network operators plan to offer virtual reality (VR) and augmented reality (AR) services to fans at stadiums. Using VR, fans could get closer to the action than ever, watching 4K, high definition replays and behind the scenes footage during a break in play," continued Miles. "Augmented reality technology could give viewers a digital layer on top of the live sports action, which could for example provide a viewer with statistics and the names of the players they're watching. Fans will also be able to enjoy other new digital experiences, such as real time navigation tools, click-and-collect food and beverage ordering– all from their mobile devices."
He added: "Audiences that are unable to attend a live sports event could still get a front row seat experience with 5G. 4K, high definition content can be streamed to a broader range of devices – from mobile phones, to VR headsets, live – something that is not possible with today's broadband networks. 5G also enables broadcasters to deploy more cameras in an arena, which could include drones, offering a wide range of camera angles and guaranteed high picture quality. This will give viewers a much richer experience than is possible today."
Meanwhile, Dom Tait, principal analyst at Ovum, noted: "Perhaps the most exciting aspect of 5G from a sports fan's perspective will be a more personalised viewing experience, either in the stadium or at home. As one of our survey respondees commented, "We will provide [the ability for fans] to watch their own games from their own perspectives as an athlete on the field". Imagine being at home with a VR device as 360-degree video of the 100m Olympic final plays out; you'll be immersed into the live experience while on your sofa. This is the promise that 5G offers."
Taking 5G forward through partnership
Broadcasters are now faced with decisions on how to take advantage of 5G through creating stronger relationships with mobile operators. Tait said: "Teaming up with mobile operators is the most obvious choice as these operators are at the forefront of 5G testing and implementation. There have already been examples of this; in June 2018, Fox Sports used 5G to stream its US Open golf coverage in 4K, partnering with AT&T. In November 2018 at London's Wembley Stadium, EE and BT Sport used 5G for remote production and a 5G broadcast of an exhibition match between teams featuring YouTube personalities and retired soccer players."
Yet the research, which surveyed C-level executives from the world's 100 largest mobile operators, including operators in Europe, also showed a large number looking at a more proactive approach to sport and 5G. Altogether, 41% of those mobile operators stated that they intend to own a sports team going forward, to support their 5G agenda as they look to expand their involvement in the sports ecosystem. This is likely to result in growing investments in 5G connectivity and services at stadiums and large venues.
Audiences may not have to wait very long to enjoy enhanced sports fan experiences. More than two-thirds (65%) of European operators claim that upcoming major sports events, such as the 2020 European Championship, are influencing their 5G roll out timelines. The research also revealed that nearly a third (29%) of European operators plan commercial 5G launches in conjunction with top sports events. Also, 82% of European operators are targeting the Euro 2020 football tournament (June – July 2020) to kick off 5G experiences to the consumer market.
eSport caution for 5G usage
Meanwhile, 94% of European operators plan to trial 5G within sports and eSports venues by the end of 2020. All European operators taking part in the study plan to support eSports in the 5G era, either as technology partners to eSports event organisers (88%), broadcasters of the action (47%), or with far bolder plans, including eSports team ownership (12%).
ESports is growing rapidly in popularity with viewing metrics, prize money and sponsorship all increasing substantially year-on-year and is being considered for entry into the Olympics as a new discipline for Paris 2024.
However, Tait warned that combining mobile networks and eSports is an area that needs to be approached with care: "Any issues with latency could have disastrous effects on an eSports event. A Fortnite tournament in July 2018 was cancelled midway through due to unacceptable lag, an embarrassing moment for the organiser.
"Taking connectivity issues off their hands, providing a professional broadcasting option, cross-promoting through other channels to an extensive customer base, providing connected retail options so fans can be served from their seats, or even taking over the event organisation itself are examples of where value can be added, and may entail some equally interesting partnership opportunities. It's comfortably possible for operators to find mutually beneficial aims with games developers," Tait concluded.
Yet eSports is an area that mobile operators can really make a difference through the use of 5G, said Miles. "Similar to mainstream sports events, eSports tournaments provide an ideal showcase for the improvements 5G networks deliver. The eSports tournaments themselves require very high speed, reliable and low latency networks, which can be enabled by 5G. Next generation networks can eliminate lag on games played over the internet, enabling thousands of players to compete, whilst guaranteeing a high quality and reliable experience.
"The 2018 League of Legends finals were viewed by 46 million concurrent viewers worldwide on average, with a peak of more than 200 million viewers. This presents the opportunity to deliver the same, high quality, feature-rich broadcast experience for eSports that operators plan to deliver for normal sports events using 5G.
"In the future, 5G will also be able to support remote gaming from almost any location. So, it could be possible for somebody to participate in a tournament from a café or park using a VR headset or their mobile phone," Miles concluded.
Time to set up the use cases
Consumers wanting to take advantage of 5G will need devices that support 5G. To ensure widespread adoption of this new network technology, 41% of European operators said they were prepared to subsidise 5G-enabled smartphones and more than a third (35%) said they would subsidize 5G-enabled tablets and AR headsets.
"It's essential for operators to find successful use cases for 5G given the investment levels. Amdocs' research has revealed that major live sports events could hold the key to consumer adoption of 5G," said Miles. "Operators have identified these events as the springboard for rollout of a whole range of new interactive and immersive services. This will give consumers their first real taste of what 5G can deliver and allow operators to showcase the capabilities of their next generation networks. Expect to see the first of these new services and applications rolled out in conjunction with the 2020 football tournament in Europe, among other big events in the sports calendar. We will also see operators becoming integral to the growth of eSports with 5G opening the door to future investment and revenue opportunities."