ACTAMEDYA provides production coordination and infrastructure for 38th Vodafone Istanbul Marathon coverage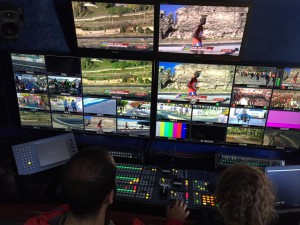 For the recent broadcast coverage of the 38th Vodafone Istanbul Marathon on TRT and NTV Sport, ACTAMEDYA provided technical coordination and infrastructure services. The HD wireless broadcast configuration made use of three helicopters, two Cineflex cameras and three motorcycle cameras.
During the 3.5 hour live broadcast, an eight-camera OB truck was located at the finish in Sultanahmed Square; a five-camera OB van was situated at the start on Martyrs Bridge; and another five-camera OB van was placed at the fun run start on Altunizade Bridge. Four HD drones were used to capture detailed close-ups, while the production also made use of DSNG vehicles for the 10km and 15 km races.
In total, 46 cameras were used and 80 team members took part in the production. ACTAMEDYA had previously produced live broadcasts of the Istanbul Marathon in 2012, 2013 and 2015, as well events such as the Adana Half-Marathon, Turkcell Gelibolu Marathon and Samsung Intercontinental Swimming Competition.
In other recent developments, ACTAMEDYA also produced two Ultra HD (4K) productions in a week. The Besiktas- v.s. Napoli match in UEFA Champions League and Fenerbahce v.s. Manchester United match in UEFA European League were broadcast in Ultra HD (4K) on TRT4K with sponsorship from BEKO. ACTAMEDYA carried out sponsorship negotiations as well as coordinating the technical infrastructure of the productions. ACTAMEDYA realised the 4K production in Turkey.
PIKO 4 Encoder and modulators produced by Kizil Electronics in Turkey were used and achieved a positive response from all the broadcasters.