AE Live secures ITV horse racing contract with augmented reality a centrepiece for graphics production
AE Live (AE) has signed a long-term agreement with ITV Sport to provide graphics services for its extensive horse racing coverage, with augmented reality a centrepiece of the evolution of ITV Sport's look.
The 2021 schedule will see AE's operational teams working on 59 race meetings across 94 TX days, delivering a range of presentation and in-race graphics, including AR content.
The company's inhouse creative team has introduced a number of new templates to add to the existing graphics package. In addition to working with ITV's team to improve the aesthetics of the existing style, AE has introduced new graphical elements such as infobars and timelines, as well as new promotional graphics and other additions for VT.
"We were impressed with the innovative and creative ideas that they presented to ITV Sport and some of these really came to fruition at Cheltenham. We look forward to building upon them throughout the rest of this year and beyond," said ITV Sport's head of production operations, Ben Russell.
With a number of race meetings already covered since 1 January, AE's attention recently switched to the iconic Cheltenham Festival, where the team were onsite throughout the four-day long event. For the first time this year, they delivered a range of AR content using Robycam to present impactful and informative graphics over the parade ring to supplement the more traditional virtual graphics used to denote furlong markers and the finish line on each race.
AE's project manager Mark Crawley told SVG Europe: "We have created new bespoke AR graphics for ITV Racing which evolve their current style and graphics package. We wanted to add a 'wow' factor to ITVs [Cheltenham] festival coverage, and AR graphics for ITV Racing's flagship meetings was a key requirement of ITV's."
"We have a range of templates we devised in collaboration with the ITV production team," Crawley went on. "We have jockey and trainer profiles of the key people involved in the festivals and feature races; results, runners and riders and various other key elements."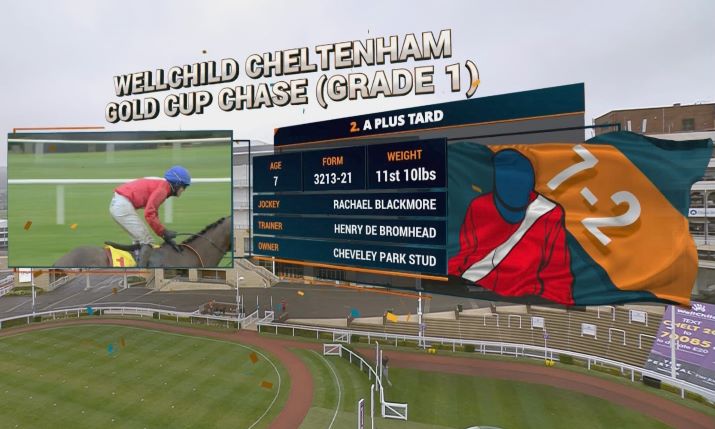 AE worked with ITV supplier Luna for Cheltenham, which provided the camera, pilots and relevant tracking data for the parade ring camera. They partnered with Birds Camera Solutions for the parade ring four-point camera. "That camera provided us with tracking data to enable placement of the AR graphics live above the parade ring by our dedicated AR operator, who also worked on the content and layout of all the templates in collaboration with ITV racing editors," noted Crawley.
ITV Sport's executive producer Paul McNamara added: "It was great to work with AE Live and Robycam on the Cheltenham Festival. It's been an ambition of ITV Racing to bring AR content to our coverage. The fantastic graphics helped to fill some of the holes left by the lack of spectators and provided real scale for such a wonderful festival of racing."
Crawley added: "For something like the result graphic we are able to work with the camera pilot and ITV production team to get a live shot of the winning horse in the parade ring and then travel up to an AR full result graphic with video incorporated showing the winning horse in the closing stages of the race. In addition to this we added elements for the social stable portions of the show, runners and riders and top trainers and jockeys."
Russell concluded: "We are really pleased to have extended our relationship with AE Live to include horse racing as well as our other sports rights including football and rugby union."
AE's Crawley commented: "It's a real privilege to be part of such an exciting project for AE. It's always great collaborating with ITV Sport, and racing provides us with a fantastic opportunity to work together on developing new innovations and enhancements to complement the extensive graphics and stats in use already. We want to give every race day the full AE treatment and we were especially excited for the first festival meeting of the year."