AE Graphics rebrands as AE Live to take the company forward after lockdown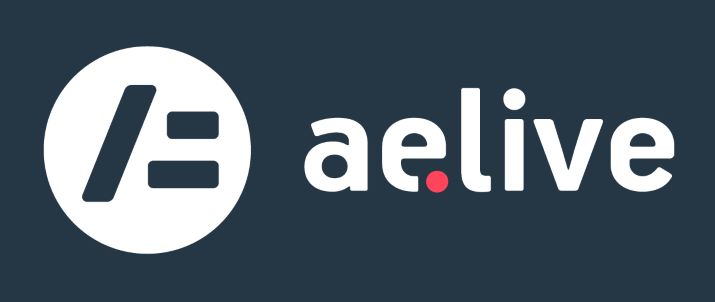 AE Graphics has been rebranded as AE Live, bringing the company's history as Alston Elliot forward as it continues to expand and develop post-lockdown.
On why now and what the significance of this rebrand is for the company, AE Live chief executive Nick Baily told SVG Europe: "The rebrand away from aegraphics.tv to ae.live has been on the cards for quite some time as we have been seeking something that better encapsulates the increasingly broad range of services we offer our global client portfolio, in addition to our more commonly recognised expertise in the provision of on-screen graphics.
"We wanted to keep AE in our brand name as this is a business with a proud history in sports broadcast, spanning 28 years, and many of our long term clients still refer to us as Alston Elliot. We like AE Live as that really epitomises the business and our ability to deliver world-class, innovative, live solutions in just about any environment, no matter how challenging."
No more delays
He went on: "We had originally planned to rebrand in April around NAB to tie in with a number of things happening at that time. This included our launch into the US market, our new partnership with Ross Video, our investment into LIGR, some exciting developments around remote production and the expected completion of a major acquisition. Unfortunately, the COVID-19 outbreak stalled both the US launch and the acquisition, but we will be pressing on with both as soon as possible."
Rather than further delay the rebrand announcement any further, Baily said the company feels the new name projects a positive message for staff, clients and the market in general. "So we have decided to do it now as we start to emerge from the sporting hiatus and cover our first major events for several months," he noted. "It also seems fitting at a time where the industry, in general, is experiencing so much transformation."
Move to the US 
The delayed launch into the US is also set to go ahead as soon as possible, Baily said: "We will be launching into the US as soon as travel and visa restrictions allow us to put key people on the ground. We have had significant interest from broadcasters and federations in the US over the last year or so and decided that this was the year to make the move. People are telling us that there is a real desire for more creative and innovative ways to visualise sports data in that market and that is very much our USP.
"The partnership with Ross Video also affords us the opportunity to introduce AE Live to their Xpression customer base and offer tailormade integrated graphics and data packages that have been so popular with our clients around the globe," he added.
Major acquisition
On "the expected completion of a major acquisition", Baily said: "We were very close to completing the acquisition of a business in the Southern Hemisphere when COVID-19 paused proceedings. In the meantime, the two companies have been collaborating on projects and we hope to complete the deal in the coming months. This will consolidate our business in Australia as well as giving us established and highly regarded entities in New Zealand, Singapore and Kuala Lumpur. We have also recently completed the investment into LIGR and hope to undertake more projects using cloud-based rendering technology over the next 12 months and beyond."
There are some exciting developments around remote production that we will see coming from AE Live going forward, noted Baily. He said: "We have been involved with remote production for some time with key clients in the Indian and Australian market and pioneered technology to do both multiple language and augmented reality (AR) graphics remotely. However, the recent pandemic has very much accelerated the migration to a more remote workflow and we are keen that we stay ahead of the curve.
"To do this we are investing in infrastructure to develop graphics operation centres at both our UK and Indian campuses to allow us to offer fully remote graphics services to clients where needed," said Baily. "We are also working with a number of clients and facilities partners to ensure we have permanent AE Live installations in place within their remote production hubs to allow us to better serve their requirements as and when needed."
Over the coming months, as live sport returns, AE Live is set to be busy. Baily commented: "It is a mixed picture across our global offices due to local restrictions but it has been good to see live sport start to return in the UK. We are currently concluding the Premier League season for BT Sport, BBC Sport and Amazon, have provided graphics and touchscreen services for Sky Sports coverage of Test cricket and are busy planning the return of Rugby Union coverage from August.
"Plans are also advanced for the return of WTA Tennis and we waiting to see what the revised international cricket calendar will mean in terms of our commitments for the ICC, BCCI and a host of global broadcasters," concluded Baily.