AES Show Fall 2020 addresses AoIP progress and impact of AI and machine learning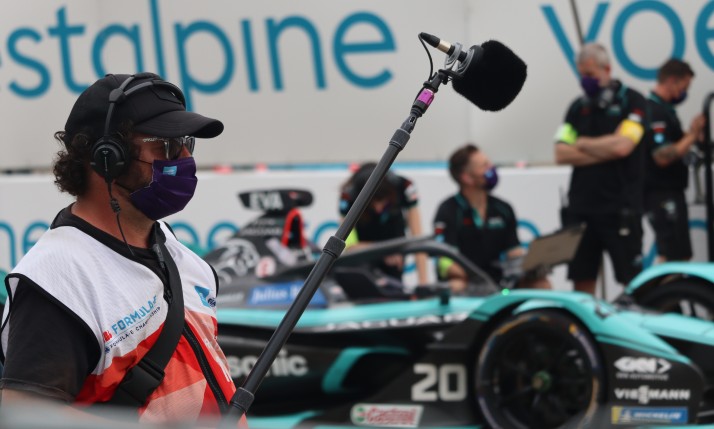 In the wake of a successful virtual European show in June, it was to be expected that the Audio Engineering Society (AES) Show Fall 2020 would also assume an online format in light of the continuing pandemic.
As with the earlier event, the virtual setting allowed AES to involve an even stronger range of speakers and contributors than normal, with a number of distinct standalone events falling under the Fall 2020 umbrella.
These included the AoIP Summit, a one-day event taking place on 13 October. Acknowledging that audio networking and audio over IP have yielded a, "fundamental shift in the way we transport audio," in broadcast and post production among other sectors, the AoIP Summit focused on the application and solutions aspects of widely adopted solutions, including the latest information on tools and technology.
Competing for attention
With multiple technologies continuing to compete for customers' attention, it is no surprise that interoperability has become increasingly integral to the overall progress of IP audio. The non-profit trade group, Alliance for IP Media Solutions (AIMS) was established exactly for this reason, its objective being the widespread adoption of one set of common standards-based protocols for interoperability over IP in professional AV and media.
In his presentation, AIMS technical working group participant and evangelist for the Ravenna technology developed by ALC NetworX, Andreas Hildebrand, said that a, "status update," for the combined efforts of AIMS and the Media Networking Alliance (MNA) – which announced a merger in 2018 – was to be expected soon. But he revealed that it would address a, "roadmap including SDI over IP, which is covered by the 2022-6 standard, as well as [the latest on] AES67 audio over IP interoperability and the SMPTE ST2110 suite of standards. There will also be [further] recommendations for the network environment, including connection management based on the specifications of AMWA," AMWA being the Advanced Media Workflow Association, whose efforts are centered around the development and propagation of the Networked Media Open Specifications (NMOS).
Hildebrand indicated that AES67 had continued to evolve as an enabler of interoperability,  highlighting the 2018 revision as having, "clarified some important aspects – for example, by removing some errors in the SDP examples – and added PICS, which lines up compatibility with AES67 for individual devices." Standing for Protocol Implementation Conformance Statement, the AES67-2018 PICS covers all aspects of AES67 standards compliance with regard to implementation.
Turning to SMPTE ST 2110, Hildebrand revealed that a "review is underway" of the synchronisation specification – which is based on SMPTE 2059 for synchronisation of video equipment over an IP network – with a view to achieving compatibility between the different existing versions. In addition, further discussions are taking place regarding the, "robustness for transporting 2110 streams over WAN [wide area networks]. We also want to discuss cloud-based operations and connection management based on AMWA [specifications]."
The AoIP Summit also included a separate presentation from Hildebrand about the role of Ravenna in the current IP audio landscape, as well as an in-depth look at Dante, AVB and MADI from RME director of sales Derek Badala, and an examination of the AES70 control standard for media networks from OCA Alliance marketing committee chair and Bosch Communications platform strategist, Ethan Wetzell.
With media networks becoming more complex and entailing connectivity with an ever-increasing number of devices, Wetzell explored the potential of AES70 – which was published in 2018 – to, "achieve greater standardisation" of control and connection management for media network devices.
Product development symposium
While IP audio will doubtless remain a hot topic in broadcast circles for many years to come as new workflows emerge and are refined further, there is also increasing excitement about the transformative potential of technologies such as machine learning and artificial intelligence (AI). The implications of these technologies for the R&D process constituted one facet of a three day Product Development Symposium (held October 14 to 16) organised by the Audio Product Education Institute (APEI), which is an initiative of the AES.
With the transition from a hardware-based methodology to a software-driven one continuing apace, as well as competition for multi-purpose solutions becoming more intense, the symposium acknowledged the acute importance of having the necessary, "skills and understanding of what it takes to launch successful audio products".
Across the three days, a series of sessions explored the, "methodologies, practices and technologies," involved in developing and bringing audio products to market, spanning APEI educational pillars including AI and machine learning, modelling and measurement, supply chain and sourcing, and interactive voice and DSP.
The wealth of exciting projects alluded to during the symposium indicated that, as many have observed, the pandemic has, for all its challenges, been conducive to some highly productive R&D. The potential of AI and machine learning seems especially far-reaching, with another recent AES virtual event, Applications of Machine Learning in Audio (28 to 29 September),  addressing its likely applications in automatic mixing, audio source separation, audio visualisation and effects control, audio data sourcing, and audio capture and recording.
At the time of writing, full streams for all three days of the Product Development Symposium were available for all to view here: https://audioproducteducationinstitute.org/apei-product-development-symposium-aes-show-fall-2020/. Meanwhile, a host of presentations from other elements of the Fall Show can still be accessed by registrants via the main show portal at https://aesshow.com.
The next AES event for which extensive details are currently available is the Audio Education Conference. Originally due to have taken place in Tennessee in July this year, this has now been pushed back to July 2021 in light of the current global conditions. More details of this event can be found here: https://www.aes.org/conferences/2021/education/.