AftonBladet TV covers breaking Swedish news with Dyvi live switcher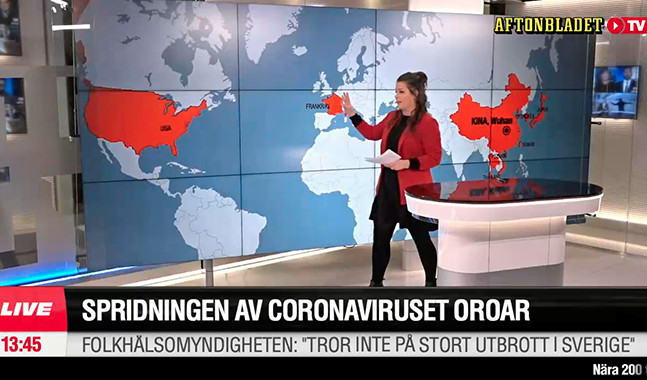 Aftonbladet TV has deployed the Dyvi production switcher for its news, current affairs and magazine studio productions. Dyvi was selected by the web TV offering of Swedish daily newspaper Aftonbladet (part of Schibsted) to replace the legacy switcher for its new Stockholm studio and control room.
Now fully operational, the Dyvi is already relied on by the core team of staff and freelancers to control the many live productions distributed each day online by Aftonbladet TV, as well as on the screens of its multi-purpose studio floor. And with the ever-changing narrative around the COVID-19 crisis driving the news agenda, the switcher has been central to getting the latest information out to their national audience.
Due to the nature of the current affairs-based content that Aftonbladet TV produces, speed is of the essence, particularly when it comes to covering breaking news. The production team was therefore keen to accelerate the process of getting images on air, including those taken directly from social media feeds.
Again, software-defined nature of Dyvi made it easy to simplify this process into a drag and drop action for the producer. The selected image then automatically appears in the correct size and framing on screen, without requiring any treatment from the graphics department. This new feature is now also available to other Dyvi users.
Vasilios Hatciliamis, head of TV operations at Schibsted Enterprise Technology, who oversaw the project said: "This project demanded an open, flexible vision switcher and we found precisely that in the EVS Dyvi. Because it's software-defined, both the functionality and layout on the panel could be configured so they would match the requirements for our news broadcasts. "The system has been easy to integrate with the rest of the control room and it also allowed us to automate many tasks through macros. We're really pleased with the way that Dyvi works."
Working together, EVS and Aftonbladet TV have created a bespoke suite of intelligent macros within the Dyvi to automate certain processes. These include controlling the audio of clips through the existing sound desk, and how graphics are presented on screen, reducing the potential for errors.