AIMS TechFest: Exploring network challenges and the "changing landscape" of remote audio production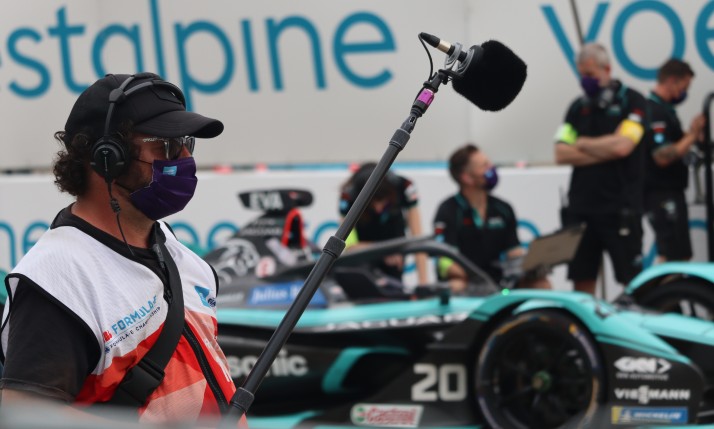 In a continuation of its long-term emphasis on education around IP audio standards, the Alliance for IP Media Solutions (AIMS) held an online TechFest on 9-10 March which addressed both current standards initiatives and the implementation of IP-based remote audio production in a "changing landscape" for media delivery.
The first day of sessions focused on Internet Protocol Media Experience (IPMX), which is a proposed set of open standards and specifications to enable the carriage of compressed and uncompressed video, audio and data over IP networks. Building on existing standards work – including SMPTE ST 2110 for IP-based media transport – IPMX adds a number of provisions geared towards pro-AV applications. These include HDCP copy protection, network discovery and registration, and I/O management for applications such as multichannel surround sound.
"PTP over WAN has some challenges, but these can be solved when you design your network very carefully and do some field tests before you go live"
On day two the focus shifted to the impact that some existing standards, notably IP interoperability standard AES67, are having on remote audio production. With a ready acknowledgement that the past 12 months have provided an increased opportunity to put remote IP-based production to the test, the day's four sessions were led by Merging Technologies' senior technologist, Nicolas Sturmel; Meinberg's head of software development, Daniel Boldt; DirectOut co-founder, CEO and CTO, Claudio Becker-Foss; and Ross Video business development manager, OEM and partnerships, Bill Rounopoulos.
Timing is everything, especially in networked environments, and in 'PTP over WAN', Boldt addressed the challenges of guaranteeing time and frequency distribution at a quality level appropriate for a reliable production. For instance, transporting Precision Time Protocol (PTP), which is employed to synchronise clocks throughout a computer network, over wide area networks (WAN) can lead to difficulties in packet delay variation, network path asymmetries and path rearrangements.
While in no way understating the implications for timing of these challenges, Boldt, who has extensive experience in the development of time synchronisation products, outlined a raft of solutions, including GPS-assisted calibration, adaptive packet filters and multi-path redundancy. Above all, he advised, it is vital to take the time to optimise your network configuration: "PTP over WAN has some challenges, but these can be solved when you design your network very carefully and do some field tests before you go live. This scenario also allows for a GPD-independent solution and [the enabling of] remote audio production with much less effort."
The show must go WAN
Another aspect of WAN-based operation – specifically, the movement from a local area network (LAN) to WAN – was the focus of Sturmel's session, entitled 'AES67 Beyond the LAN'. No prizes for guessing that timing issues can present significant challenges here, but Sturmel outlined a series of "real-world approaches and best practices" to cope with problems resulting from additional delay, transcontinental synchronisation and packet loss on the open internet.
The remaining two sessions addressed the on the ground present and possible future of AES67-over-WAN implementations for remote production. In 'The Show Must Go WAN', Becker-Foss, who in addition to his DirectOut duties is also active as a freelance classical music recording engineer and producer, explored a series of remote audio productions undertaken in collaboration with German live event solutions provider Remote Recording Network during lockdown.
With the pandemic also accelerating the migration to cloud-based workflows, it was entirely logical that the day concluded with Rounopoulos leading a session entitled 'AES67 WAN Transport Utilising the Cloud'. His presentation drew on a number of recent live demos designed with two main objectives in mind: "To do some operations in the cloud to allow customers to maximise opex vs capex expenditure, and to send high-quality signals and leverage technologies like AES67 and ST 2110 over distance in the cloud."
It is apparent that Ross Video expects microservices to play a role here, with Rounopoulos revealing that the company's focus in this area is "heavily on our softGear" media processing platform. Designed to respond to changing programming needs through media processing services on commercial off-the-shelf (COTS) hardware and in the cloud, softGear offers best-of-breed processing from Ross and third party platforms, and is configured and managed via a common DashBoard interface.
Reflecting on initial trials that delivered "significantly less latency" than expected, Rounopoulos confirmed that, "one major question remains, which is how to make it more practical [to achieve] PTP transport timing through the cloud". It is an issue that "we are looking into" at the moment, he noted, with a successful resolution having a potentially transformative impact across the industry: "If that can be solved then [this cloud-based approach] becomes a very practical technology that a lot of people could use."
Changing times with COVID
Speaking to SVG Europe in advance of his presentation, Rounopoulos agreed with the suggestion that the last 12 months have prompted an acceleration in the adoption of remote production. Post-pandemic, it is clear he expects "people will look to do live events differently than [before COVID-19]".
He continued: "For instance, you could see more hybrid situations where some people are on site and some are working remotely. It remains to be seen what that looks like, but it's certainly the case that many larger productions use freelancers located all over the place, so [there is a bigger question] of how to access those pools of people efficiently and reliably. Using some of these tools could help to mitigate that challenge."
Remaining technical hurdles notwithstanding, Ronoupoulos evidently feels that this is a hugely exciting time for broadcasters and service providers. Ultimately, delivering robust cloud-based workflows will be one important component of allowing customers to, "respond to different situations, needs and workflows, whether it's on premise, in the [public] or private cloud, or some mixture of on-premise and cloud".
He concluded: "Making that happen requires a [continuing emphasis] on workflow optimisation and the ability to adapt to a changing landscape."
For more information on AIMS and its forthcoming events, please visit https://aimsalliance.org. Full details of the ongoing IPMX initiative can be found at www.ipmx.io.