AJA renews its SVG Europe sponsorship for the 10th year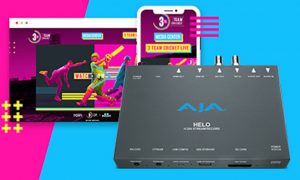 AJA has once again shown its support for SVG Europe, returning as a Gold sponsor for 2021. AJA director of product marketing Bryce Button highlighted the quality of virtual events and the strength of the SVG Europe community as key factors in the decision.
Button said: "In the last year, professionals across live sports production have surmounted new obstacles amidst a global pandemic and worked closely with technology manufacturers to embrace remote working and adapt to new social distancing protocols at venues and in OB settings. Regardless of the challenges presented, they continued to innovate at an incredible rate to ensure audiences could conveniently consume live and video on demand (VoD) coverage of their favourite sports, teams and players once match play could safely resume.
"A reliable and informative market resource, SVG Europe has followed these developments every step of the way, providing valuable analysis of industry shifts and the technologies driving them. At the same time, SVG Europe has helped nurture a sense of community via insightful virtual webinars and roundtables representing a diverse pool of thought, and AJA is proud to renew its sponsorship with SVG Europe for the 10th year."
He concluded: "We look forward to following SVG Europe's continuing coverage of industry trends from remote production to the evolution of IP, emerging high resolution, high dynamic range workflows and beyond, and participating in its impressive line-up of virtual events in 2021."
Find out more about the benefits of SVG Europe sponsorship.