All inclusive: EMG discusses improving diversity in the broadcast industry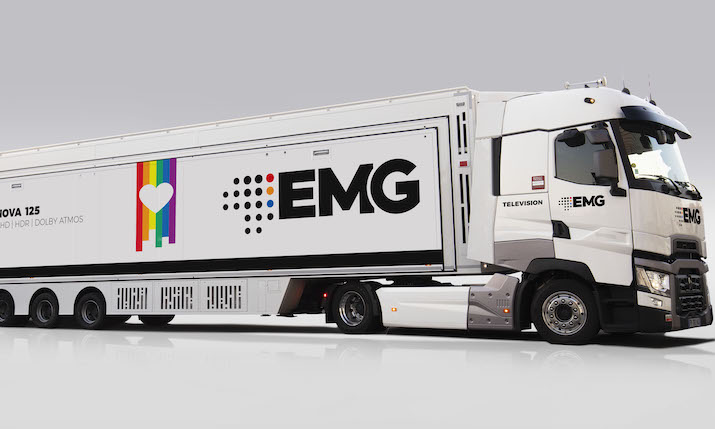 By Wendy Stanborough, HR director, EMG.
Diversity has been a hot topic in recent years across many industries, and the broadcast sector is no exception. In looking back over the past 12 months, the pace of change seems to have sped up and it certainly feels like the conversation is more open.
We are more ready to acknowledge that having diverse teams creates not just more inclusive and equitable workplaces but more successful and innovative businesses, thanks to the different perspectives of diverse staff. However, despite progress, the broadcast sector does have a long way to go; for instance, there are issues around a lack of representation of minority groups in senior roles that we need to address.
I joined the EMG team in March 2022, and I'm proud to say that the company has really embedded diversity into its values from the top down – our leadership team is absolutely committed to becoming a more diverse organisation, and we try to live and breathe it day-to-day. To this end not only do we look at our recruitment practices and how we can build a more diverse team, but we also look at how we create an inclusive environment.
We ran a lot of initiatives last year, including several awareness days on various diversity aspects, with the aim of opening up a discussion around these topics. Not only did the events educate our staff outside of those underrepresented groups, but also the staff within those groups got to share their life and work experiences – good and bad – and, most importantly, they could see that we value them and their experience. The events sent the message that everyone is welcome and they helped to create a more supportive work environment.
We celebrated National Inclusion Week in September and October with a series of activities, including a Food Day where people from different backgrounds brought in traditional food from their country or culture. Sharing these delicious dishes provided a jumping-off point to get people together to talk and learn about their backgrounds that we might not otherwise have known. It gave a real understanding and appreciation of the different cultures and community that we have in the company. We also brought in an inspiring guest speaker to talk about his life experiences and the challenges he faced as an ethnic minority.
Taking Pride
Moreover, we celebrated Pride to demonstrate our allyship with the LGBTQ+ community. One of our trucks travelled around the country in June decorated with the rainbow insignia, outwardly displaying our allyship at many sports events, before finishing at Glastonbury and then the Pride 50 show. Internally, we ran a campaign throughout the month including how to be an ally, ending with a guest speaker talking about his work experiences as someone from the LGBTQ+ community.
However, one of the most important things we did as a company was to start practising self-disclosure. When an employee joins EMG we ask them to share with us (if they are comfortable) their characteristics, which helps us to create an overall picture of what our workforce really looks like. Whether it's disability or sexuality or gender or anything else, it's important to record this information so that, when we review our HR provisions or are thinking about programmes that we want to run, we know that we're doing the right things for our staff.
When it comes to increasing diversity in the wider broadcast industry, there are some specific challenges that we need to overcome. The industry can be a bit of an enigma: if you're not already in it, or you don't know somebody in the industry, you might never even think of it or consider it as an opportunity. This is a broader problem that then contributes to our diversity challenges. We need to get better at promoting the industry to a wider external market to attract those with transferable skills, let those at school and university level know it is a great career choice with exciting opportunities – and show that the industry is welcoming and inclusive.
We are actively working to bring the next generation of females into the industry. One of the ways we are doing this is by engaging with universities and getting involved in T level qualifications. Additionally, we have partnered with Rise, an organisation that focuses on promoting and supporting females in broadcasting. We have a number of mentors from EMG supporting females working in the industry and those looking to get into it. And we were delighted to have had two female Rise Award winners within our company in 2022, demonstrating that we are successfully growing and promoting female talent internally.
Behind the scenes
The lifestyle factors associated with certain production sectors and roles, such as regular travel and unpredictable hours, can be off-putting to some groups, but the growth of remote production may make the industry more attractive by providing more structure and stability to job roles.
Additionally, the demand for more representation of minorities on screen, whether in sport or entertainment, could and should have a beneficial effect behind the scenes. It's something of a wake-up call when the on-screen talent is diverse, but that diversity is missing when you look around at the behind-the-scenes production team. Having that awareness, plus a desire to improve it, is what will kick-start changes in this area, hopefully providing another avenue to encourage people of diverse backgrounds into the broadcast industry.
While 2022 saw the ongoing conversation about diversity drive renewed momentum, we hope to see even more progress in 2023. At EMG we have lots planned to celebrate every culture and every part of the community that we serve, aimed at creating an environment where everyone feels comfortable and supported. We are strengthening our partnerships with a variety of organisations that highlight diversity and inclusion, which will help us to promote the industry and attract a diverse new generation to join us.
These efforts are part of our ongoing commitment to creating a more diverse and inclusive industry for all. What will your organisation do?