Amazon Prime and BT Sport secure final Premier League TV rights packages
Amazon and BT Sport have taken the two remaining Premier League TV rights packages for the 2019/20 to 2021/22 seasons.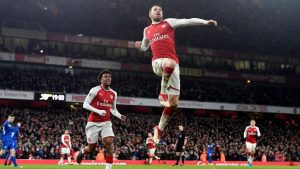 Amazon Prime Video will show 20 matches per season, comprising two full fixture rounds – the first December midweek round and the festive Bank Holiday round. This will mark the first time that a full round of Premier League fixtures will be broadcast live in the UK.
The package secured by Amazon also includes weekly highlights of all Premier League matches throughout the season.
BT secured the other remaining package, picking up Package G which includes 15 matches from two midweek fixture programmes and five matches from a split weekend, a new initiative that will create an opportunity for a mid-season player break.
The best five of the seven domestic packages of media rights, allowing live TV coverage of more than 200 matches per season from 2019 to 2022, were sold in February, with Sky and BT again dividing the rights. Sky took four of the best five, at a 14% discount on its current deal.
After Thursday's rights deal, BT will be paying £975m over three years for 52 games a season from 2019, compared to £960m for 42 currently.
Andy Haworth, managing director for content and strategy for BT's Consumer division said: "We're delighted to be able to offer our customers even more Premier League matches and to create exciting mid-week nights of top-flight Premier League football action.
"Today's Premier League announcement, and the recent deal with NOW TV, means BT TV customers will have access to all of the best exclusively live sporting action in the UK. We look forward to continuing as a partner of the Premier League and showcasing the most exciting league in the world."
The Premier League joins Prime Video's growing stable of live sports, including US Open Tennis, ATP World Tour Tennis events and NFL games.
Jay Marine, Vice President of Prime Video in Europe said, "The Premier League is the most watched sports league in the world. Over these two December fixture rounds Prime members will be able to watch every team, every game, so no matter which Premier League team you support, you're guaranteed to see them play live on Prime Video."
Premier League executive chairman Richard Scudamore added: "Amazon is an exciting new partner for the Premier League and we are very pleased they have chosen to invest in these rights.
"Prime Video will be an excellent service on which fans can consume live Premier League football – including for the first time in the UK a full round of matches – and we look forward to working with them from season 2019/20 onwards."
The split of UK live rights for 2019/20 to 2021/22 season
Sky Sports
128 matches per season consisting of:
Package B 32 matches at Saturday 17:30
Package C 24 matches at Sunday 14:00 and eight matches at Saturday 19:45
Package D 32 matches at Sunday 16:30
Package E 24 matches at Monday 20:00 or Friday 19:30–20:00 and eight matches at Sunday 14:00
BT Sport
52 matches per season consisting of
Package A 32 matches at Saturday 12:30
Package G 15 matches from two midweek fixture programmes and five matches from the split weekend
Amazon Prime Video
Package F 20 matches per season from one Bank Holiday and one midweek fixture programme