Amazon readies for its first foray into Premier League live streaming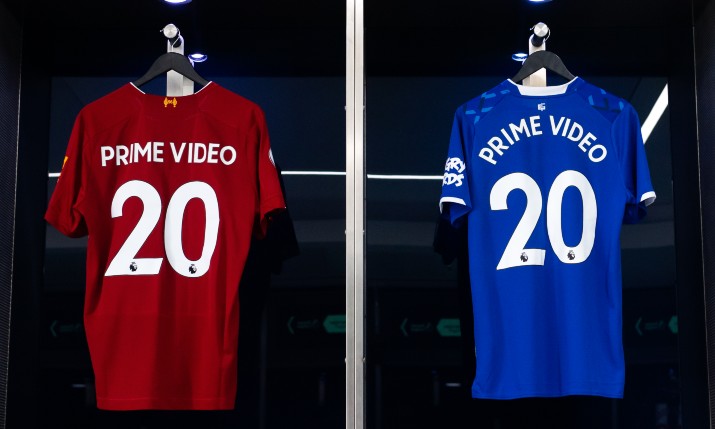 On Tuesday, Wednesday and Thursday this week (3-5 December), Amazon Prime Video will stream 10 Premier League matches exclusively live in the UK. As highly anticipated Premier League debuts go, this one is going to take some beating.
It will mark the first time that an entire round of Premier League fixtures has been shown live in the UK and will also be Amazon's first foray into streaming live football in the territory (having previously streamed live tennis).
Importantly, it will also be the first time that any pure streaming or OTT service has shown live Premier League matches in the UK. Until now, when Sky, ESPN and BT Sport have offered up live matches online or on mobile, they have done so as part of a broader distribution strategy that includes linear TV channels.
Following the high profile issues faced by other OTT streaming services when doing live sport, a big focus for consumers and industry alike will be how robust the streaming network is when confronted with what is likely to be a huge demand.
"Christmas will be a little busy! But that's live sport, and people wouldn't be working in it if they didn't enjoy the thrill of bringing the action to life on-screen for our Prime members."
The Times newspaper in the UK has suggested that Amazon has held talks with internet service providers as it looks to ensure the coverage does not encounter any technical problems. This has not been confirmed by Amazon.
Either way, the success or otherwise of the Amazon matches will be of great interest to the wider industry.
The 10 games being shown this week include several eye-catching fixtures, not least the Merseyside derby and Manchester United's clash with Spurs, a match that will see new Tottenham boss Jose Mourinho come up against his former side. All 10 are completely free to customers with an annual Prime membership.
Amazon will show another 10 games over the Christmas period (26 and 27 December) as part of a deal runs until the end of the 2021-22 season. In that second tranche of matches, nine will be shown live on a single day.
Production details
Amazon has signed up BT Sport and the production company Sunset+Vine to produce its coverage. Sunset+Vine told SVG Europe back in March that it would be putting together a dedicated team to make the Amazon output. At the time, exact numbers and staffing levels were still to be decided.
According to its media preview, Amazon says it will have "over 350 cameras in Premier League stadiums up and down the country" across the ten matches and will work with "over 2000 camera operators, editors, sound engineers, directors, mixers and producers, as well as employ over 70 on-screen talent to analyse, commentate and host the programming."
It will have a studio in Stratford, provided by BT Sport, plus the glass-box studios in the stadiums. Commentary and punditry teams will be pitchside with more than 70 faces and voices providing match presentation (see below).
Alex Green, the managing director of Prime Video Sport, Europe, discussing the set-up said: "We will have a production presence at every stadium including not just commentators but also a presenter and pundits, who will be pitch-side or in a studio.
"We will have more than 70 on-screen presenters, pundits, reporters and commentators on Boxing Day alone. So yes, Christmas will be a little busy! But that's live sport, and people wouldn't be working in it if they didn't enjoy the thrill of bringing the action to life on-screen for our Prime members."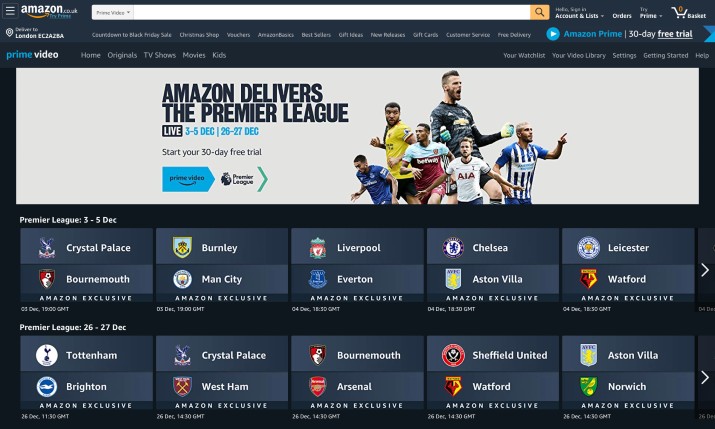 Presentation and pundits
Every single game will have its own dedicated on-screen pundits and hosts for the pre-match build-up and post-match analysis, live from the stadium.
Amazon Prime Video's hosts for Premier League coverage in December will include Gabby Logan, Eilidh Barbour and Jim Rosenthal.
Among those joining them as pundits across both this week's matches games and the Boxing Day games will be Thierry Henry, Alan Shearer, Peter Crouch, Roberto Martinez, Lee Dixon, Harry Redknapp, Jermain Jenas, Alex Scott, Peter Schmeichel and Michael Owen.
Commentary across all 20 live and exclusive matches will be delivered by Clive Tyldesley, Jon Champion, Connor McNamara, Guy Mowbray and Ian Darke alongside pundits Andy Townsend, Ally McCoist, Glenn Hoddle, Sue Smith and Kevin Kilbane.
Steve Bower will host Goals Centre, a dedicated stream on 4 December and 26 December bringing viewers every goal from every Premier League game, as it happens.
Green, discussing the talent line-up, added: "We wanted to create a broad and diverse talent line-up with a mixture of both familiar faces and new ones. The sheer breadth and depth of our lineup shows how much we are investing in this."
Interactivity
On the web, mobile and Fire TV, viewers will be able to search for deeper insights using the X-Ray function. Included will be advanced live match stats from Opta, highlights and player lineups.
Prime Video is an OTT streaming and on-demand service that can be viewed on PCs, various connected TVs and set-top boxes, mobile devices as well as via the Amazon Fire TV, Fire TV Stick and Fire tablets.
BT has added access to Amazon Prime Video to its BT TV set-top box and is allowing its subscribers a free six-month trial.
Amazon Prime Video's live Premier League coverage will be available on 3, 4 and 5 December and on 26 and 27 December 2019