AMP VISUAL TV selects CyanView camera control for Le Mans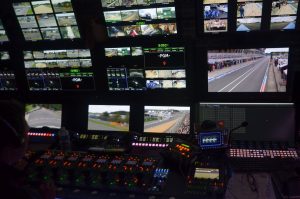 For the 86th Le Mans 24 Hours/24 Heures du Mans, AMP VISUAL TV and CyanView partnered to enable the broadcast services provider to leverage the creative possibilities of specialty mini-cameras – without the image quality loss that can be associated with the devices.
CyanView worked to integrate its solution with AMP VISUAL's own wireless telemetry system to control all the onboard mini-cameras. Three RCPs were integrated with Lawo's IP-based VSM control system, a V-pro8 8-channel video processing toolkit and the new Cy-VP4 – a simple enough task as all CyanView's products are based on IP. The RCPs were all installed in AMP VISUAL TV's OB vans vision area.
"This was a great opportunity to work with a market leader to test, validate and further develop our solution in a real world environment," said David Bourgeois, founder and CEO, CyanView. "AMP VISUAL prides itself on delivering the best solutions for its customers. However, when it came to control of mini-cameras there was nothing available that met their very exacting standards not only in terms of control, but also that could deliver images consistent with the output of the main track cameras. Now, they've found the solution they needed."
AMP VISUAL TV deployed mini-cameras in order to provide a range of views, including the 'flip/flop' technique which captures a car as it approaches, and then flip/flops to the tail of the car as it passes. The CyanView installation provided the required control – including remote chromatic control of all the mini and PTZ cameras – delivering the ability to create a perfect match with the main production cameras.
"All too often, live or outside productions are uncomfortable with using mini-cameras because, while they can provide compelling images, the compromise is invariably a loss of quality, with a colorimetry mis-match between footage from the mini-cameras and footage from the main production cameras," continued Bourgeois. "With our modules around the Cy-RCP, and now the advanced processing of the Cy-VP4, that's no longer an issue. Now, vision engineers can relax, knowing that whichever camera the onscreen image comes from, they'll have enough immediate control to be delighted with the results. This is particularly important when dealing with the inherent latency of wireless onboard cameras."
"Working with AMP VISUAL TV at Le Mans was an enormous pleasure, and demonstrated once again how well suited the CyanView solution is for high profile, prestige live broadcasts that want to take advantage of mini-cameras – and where image quality is everything," Bourgeois concluded. "And, once again, it demonstrated the flexibility and reliability that are essential."
"This was the second time we had worked with CyanView – and we were impressed," said François Valadoux, executive VP and CTO of AMP VISUAL TV. "We aim to deliver an outstanding viewer experience – and the Cy-VP4 and Cy-RCPs helped us do just that. Of course, we've used specialty mini-cameras extensively in the past – but CyanView helped us take that to another level. There is nothing else quite like it on the market and our collaboration gave us what we needed in the end. We'll definitely continue to work with CyanView again in the future."
The Cy-VP4 is much more than a colour corrector; it performs like a universal powerful CCU by enabling advanced image processing to any mini-camera from the Cy-RCP and within the production workflow. It is highly complementary to mini-cameras that often lack the more advanced corrections required for a good matching with the main production cameras.
The Cy-RCP is a universal RCP for any camera that offers multiple camera control from a single unit. IP-based like the Cy-VP4, making it ideally suited for remote production, it features physical buttons rather than a web-based interface.