Antelope captures stunning replays of alpine skiing disciplines in Russia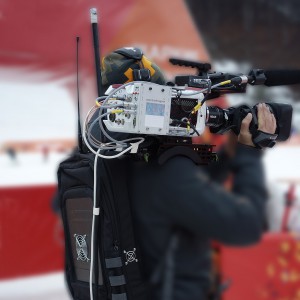 LMC's Antelope Ultra Slow Motion systems shot extreme slo mo replays at the Winter Olympics in Sochi. Ten Antelope MkII systems were positioned on the slopes in Rosa Khutor to provide replays with up to 2580 frames per second in native HD 1080i. Most of the Antelope cameras were deployed as hand-helds to capture the fastest disciplines where athletes reached speeds of more than 80 mph.
The tripod version with a Canon J100x lens was also used, as well as an Antelope AIR RF wireless version of the MarkII. Both the AIR and the handheld systems were equipped with LMC's C-Box which remote controls all cameras from the Antelope family. Through LMC's UCCP (Universal Camera Control Protocol), bandwidth is significantly reduced.
The UCCP is a configurable multi-purpose protocol and contains all information regarding camera control, status, colour correction, replay, tally and more. The C-Box features lens control and supplies power. All systems were equipped with LMC's eXflicker to eliminate lighting-related flicker.