Arena wins ITV contracts, plans OB builds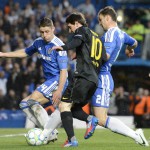 UK outside-broadcast company Arena Television has won three additional contracts with ITV Sport, including coverage of the FA Cup competition. To service this and other increased demand, the OB operator is currently building a new HD truck and also has plans for another to be built in the near future. Arena already provides location facilities to the UK commercial broadcaster's sports arm for coverage of the UEFA Champions League and England Internationals, both home and abroad. From the end of this summer,  Arena will also cover the FA Cup, the Europa League, the FA Youth Cup,  and the Community Shield, which will be the first fixture of the new contract.
Commenting on the deal, Tony Pastor, head of production at ITV Sport, says, "Arena has done an outstanding job on the Champions League for ITV Sport, and I'm delighted we will be widening our partnership to cover all our live football output."
Arena commissioned a new truck, OB11, in February prior to the new contracts' being settled. Managing director Richard Yeowart comments that,  in providing cameras and cabling for UK home matches in the Champions League and units for presentation of overseas games, the company "seems to have hit it on the head" for ITV in terms of facilities.
Yeowart says OB11 will be an "evolution" of Arena's existing double-expanding-side trucks and duplicate OB7, 9, and 10 in terms of the two-tier production-area layout. "We were gauging where we were with contracts earlier in the year and found ourselves in the strange position of declining work because of lack of availability," he explains. "We don't like to build more than one truck a year, but with the new contracts, we will need another."
Once the coachwork on OB11 is finished, work is due to begin on OB12, which will be a duplicate of OB8 and have a three-tier production area, making it suitable for presentation and studio projects.
Yeowart says he is currently getting quotes from equipment suppliers but hopes to install "some new technology" in both trucks. "We tend to use Sony vision switchers, and we're likely to do so again," he comments. "The other equipment is more negotiable. We've used Pro-Bel [Snell] routers in the past, but there might not be a suitable product from them for this, so we could look at Evertz or other manufacturers."
Last year, Arena put OB14 on the road with the first Lawo digital audio console to be installed in a UK OB truck. Yeowart says the Lawo mc² 66 has proved "popular", but the company generally uses Calrec Audio desks. "If we want to keep the trucks similar, then Calrec would be the way to go, and they have now moved their game on with a routing network connected to the desk, which is what Lawo does," he states.
Yeowart says ITV is "very keen to make use of new technology", particularly when hosting major football competitions like the Champions League and FA Cup. Among Arena's recent innovations are Optocore fibre systems for commentary, pitch-side, and studio runs. Another feature is the ability to drive EVS servers from the commentary position over fibre connections.
Arena's OB11 is likely to join its existing 20 truck fleet in the early autumn, although there is no time-scale yet on OB12.