Around the leagues: Bringing the Bundesliga to the screen for the 2018-19 season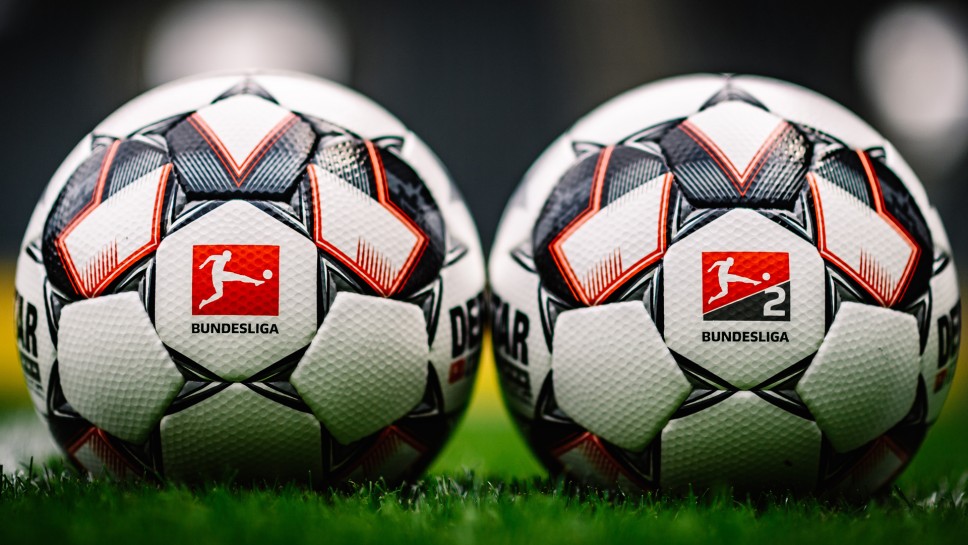 As a subsidiary of the DFL, Sportcast is the host broadcaster of the Bundesliga and Bundesliga 2, and as such is responsible for the TV production of all 612 matches per season. "The so-called 'basic signal' is used as a live feed or for pre-recorded coverage by national and international rights holders," says Henning Wenzel, head of corporate communications. "As the coordinating TV-media service provider, Sportcast oversees the entire value chain from the production of the signal in the stadium itself to the worldwide product delivery to all 211 FIFA countries. In doing so, Sportcast is one of the largest producers of live sport worldwide."
Setting the standard
All 306 matches of the Bundesliga are produced with a minimum standard of 19 cameras. For the top matches of the league, a further two cameras are added. This includes the deployment of several special cameras such as Flycams, Polecams, 6-way high speed SSL, beauty shot or players' tunnel cameras. In addition, one match per matchday is produced in UHD.
As a standard, the 306 matches of the Bundesliga 2 are produced with seven cameras. For those matches considered more important, eleven cameras are deployed – ensuring a consistent transmission quality of all matches of the Bundesliga and Bundesliga 2.
The video signals have been transmitted via fibre since the start-up of the Bundesliga fibre network, connecting all venues with the central production site at the Cologne Broadcasting Centre (CBC) since the beginning of 2015. Here, the compression method JPEG2000 with a data rate of 250 Mbit/s per video signal is used. The fibre network is available and is monitored 24/7. It is based on a star topology with an available data rate of up to 10Gbit/s per venue each of which has an infrastructure of transmission technology at the parking area for the OB van. Apart from the basic signal, further video signals are transmitted via the fibre network. In addition, data services, communication, telephony and internet are made available at each production site.
German Football Archive
Sportcast operates the largest digital football archive in the world. The archive is the central content source for cross-media products and is available to all media partners 24/7. The Media Library's entire stock of material comprises more than 33,000 matches, 140,000 hours of video content with over 180,000 files. The annual increase of material comes up to more than 10,000 hours. Virtually every match scene can be retrieved from the Mediaportal at the touch of a button.
Christoph Forster, Head of German Football Archive says: "We are currently working on several Proof of Concept technical innovations that are designed to enhance the content with metadata as well as the use of cutting-edge categorisation technologies to ensure fast and accurate search results."
He continues: "There are a few ways we are planning to enrich video content with metadata in order to make the archived video assets easier available for later use. For example, Sportcast archive staff log all Bundesliga matches 'live' and 'post' – that is the most important scenes immediately they occur. After the match, all editorially relevant scenes are tagged in a very detailed manner.
He goes on to say that official Bundesliga match data – statistics, line-ups, and so on, is also linked to the video material related to that match and is, therefore, also an important enhancement of the video footage. "Technical metadata such as format, resolution, duration, etc.is captured automatically by the archive software."
In this context, Sportcast founded the subsidiary Sportec Solutions. At the start of the 2017-18 season Sportec Solutions and its expert team took operational responsibility for the collection, storage and distribution of official match data of the DFL. Sportec Solutions is responsible for collecting some of the most comprehensive live data in world football and deploys the latest technologies and collection methods to do this.
Finally, automatically generated metadata utilising the latest technologies such as videomining, audiomining and fingerprinting, will enhance the videos with much more additional metadata in order to be able to retrieve also video sequences that are/were unknown until today. "We hope these innovations will be in production mode very shortly," says Forster.
International offers
"The DFL has an extensive International Production Portfolio," reports Wenzel. "Most of the international formats are offered as ready-to-air content. For example, all live matches are provided with dual English and German commentary and international graphics. The same applies for Bundesliga Highlights Shows and most of the shoulder programming."
In addition, the DFL provides localised opening sequences with Bundesliga titles. For some markets, localised TV programming is provided, plus localised digital content – which includes approximately 30 minutes of relevant highlights clips per matchday.
Sustainable inspiring innovations
Tim Achberger, head of innovation and technology management, explains: "By means of consistent innovation and technology management as well as the latest production technology, Sportcast integrates throughout a target-orientated consolidation of video- and audio-signals as well as data-feeds and graphic elements, innovative products and services live into the world feed." Achberger reports that Sportcast's latest innovation is a corner flag camera, which provides viewers with a new perspective on the game. The prototype was developed within six months from idea to first time 'on air' at this year's Supercup match."
Augmented reality
"Starting with the 2017-18 season for selected Bundesliga top matches and special events the DFL has successfully included especially designed augmented reality graphics in connection with a Flycam system into the world feed," states Achberger. "The applied fully UHD-capable system provides the opportunity to integrate graphic elements, such as club emblems, tables, or player profiles, into the live feed."
Sportcast coordinates the contributions by providers of Flycam systems as well as graphic providers.
With its subsidiaries HD SAT Com, LIVECAST and Sportec Solutions, Sportcast is able to test and integrate innovative media products into the Bundesliga live feed.
Unique selling proposition
The DFL manages the entire media value chain together with all its subsidiaries – from the data collection, the production of the basic signal, the creation and worldwide delivery of content, to the marketing of media rights. This represents an absolutely unique selling proposition in comparison to all other football leagues.