ARRI, ProSiebenSat.1 and NEP achieve series of firsts with cinema-quality live production
In a unique collaboration between ProSiebenSat.1, ARRI, and NEP Germany, a live UHD sports production has been broadcast on German television for the first time ever with ARRI cameras. With five ARRI AMIRAs and one ARRI ALEXA Mini, as well as production and transmission technology from NEP, the Steko's Fight Club kickboxing event at Mixed Munich Arts on 28 March was televised on kabel eins and streaming service ranFIGHTINGde, as well as on UHD1 (the UHD demo channel of HD+) in live UHD.
It was a first-time cooperation between the three major Munich media companies, ProSiebenSat.1, ARRI and NEP. The production saw the first use of the ARRI camera technology in an NEP OB van at NEP Germany, plus the first Cine-Look on German television in a live UHD sports show. The partners achieved high data rate UHD for both slomo and PGM recording, and it was a native live UHD production from the camera and slomo to graphics.
NEP Germany technical director Mark Overkamp said, "the idea for this project was developed at IBC in 2017 between ProSiebenSat.1, ARRI and NEP. The goal was to give a live boxing event a look that borders on major movie productions such as Creed. The Creed and Creed2 movies were filmed with ARRI Alexa cameras. The chip of this 35mm camera is also used in the ARRI Amira camera, which was selected for our test.
"The biggest challenge on our side in this case was to make the conversion of the OB van so that it could be used again the next day in standard setup," said Overkamp.
The event was produced with six 35mm cameras in UHD 1 2SI format (3840×2160 pixels) with a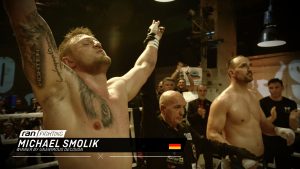 photosensitivity of 800 ASA. All cameras were equipped with PL mount cinema optics. A total of 4x zoom lenses and 2x lenses with fixed focal lengths were used.
The cameras set-up was Cam 1 main 17-120mm; Cam 2 ring corner 14-35mm; Cam 3 ring corner 14-35mm; Cam 4 handheld camera 14-35mm; Cam 5 walk in 10mm; and Cam 6 beauty 8mm.
"The base stations of the ARRI Amira were integrated into the NEP HD36 4K including intercom, cue light connection and PGM return," continued Overkamp. "In addition, two EVS Via servers were used to create replays and highlights in UHD. The UHD graphics were connected via 2x 12G to the OB truck.
"And in addition to the live production, all cameras were recorded in UHD and a program recording in UHD as well as HD recorded on hard disks. The event was broadcast on UHD1, the demo channel of HD + in SQD format, HD 1050i on Kabel eins and livestream on Ran Fighting," he said.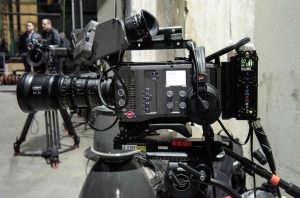 Lighting designer Werner Sailer said, "due to the higher photosensitivity of the camera in combination with the PL Mount Cinema optics, a working aperture (4.5-5.6) could be achieved at 500/600 lux."
NEP Germany head of planning Sandro Martorana concluded, "we are very pleased that ProSiebenSat.1 had the courage and confidence to implement this unique and innovative project with NEP Germany. It was a special production for all involved, with a truly remarkable result, which has also inspired industry colleagues."