Arsenal, Liverpool and Man City bring immersive experiences to fans with Intel True View
In partnership with Arsenal FC, Liverpool FC and Manchester City, Intel will deliver immersive experiences via Intel True View at Emirates Stadium, Anfield and the Etihad Stadium.
From 10 March, fans worldwide can enjoy the biggest moments of the match from every angle, whether they're watching the rights holders' live broadcast and highlights or reliving the action post-match from the clubs' official website, mobile app or social media.
Intel True View re-creates the action on the pitch and presents that from an ideal vantage point or player's perspective, using Intel's data-processing capability to deliver the experience to fans.
The deal struck by the three clubs means they will also provide the new footage to BT Sport and Sky Sports to help with live analysis when they cover matches at those stadiums.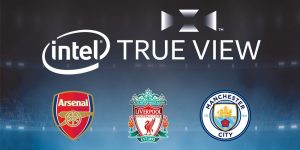 The process begins with volumetric video, the capture and rendering technique behind Intel True View. Using the volumetric capture method, footage is recorded from 38 5K ultra-HD cameras that include height, width and depth of data to produce voxels (pixels with volume).
After content is captured, a substantial amount of data is processed with servers powered by Intel Core i7 and Intel Xeon processors. The software then re-creates all the viewpoints of a fully volumetric 3D person or object.
That information renders a virtual environment in multi-perspective 3D that enables users to experience a captured scene from any angle and perspective and can provide true 6 degrees of freedom.
The partnerships will introduce features that include:
Multi-angle views of a play: Intel Sports' volumetric video process creates 360-degree replays and highlight reels from every conceivable angle, using 38 5K ultra-high-definition cameras.
Laser wall: A virtual plane giving viewers a clear picture as to where players are positioned on the pitch.
Be the player capabilities: Intel True View freezes a moment in the match to let fans see the pitch from the eyes of a player. This also enables presenters and pundits to share a new level of insight into the tactics and decisions made by players to provide an entirely new perspective to fans.
---
---
Peter Silverstone, commercial director of Arsenal FC, said: "We are always looking to find new ways to bring our 780 million fans and followers around the world closer to the action and this partnership will give our fans a whole new view of the game. The technology effectively allows a supporter to step into the boots of players and see the game from their perspective.
"We have seen the impact this Intel technology has had in other sports leagues across the world and are excited that it will be installed at Emirates Stadium.
"At Arsenal, we are committed to innovating and keeping at the forefront of developments on and off the pitch so it's fitting that Emirates Stadium will be the first stadium to bring Intel's immersive and transformational True View technology to the Premier League."
The sports industry is undergoing a period of significant change as consumer behaviour is shifting, driving technology, leagues and brands to address the expectations of fans. In 2018, technology investments into sports reached nearly $1 billion, continuing to drive the intersection of sports and technology. With smart and connected tools, Intel is uniquely positioned to enable the sports industry to capture, analyse and respond to new levels of insight in real time and create amazing new experiences for fans.