ArsenalFanTV's Robbie Lyle to appear at SportTech 2018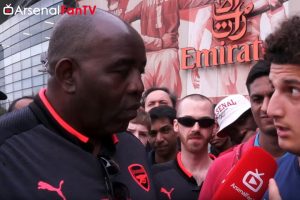 ArsenalFanTV (AFTV) founder and presenter Robbie Lyle has been added to the speaker line-up for SVG Europe's SportTech conference.
The former reggae radio host and surveyor will be interviewed by SVG contributing editor Heather McLean, sharing his thoughts on the rise and importance of fan-generated TV channels.
SportTech 2018, which this year is focussing on OTT and live streaming, takes place on 30 May at Chelsea FC's Stamford Bridge ground.
AFTV is an online channel for supporters of Arsenal Football Club. It specialises in producing and distributing videos that give Arsenal fans the opportunity to "express their unbiased opinions on topics such as the performance of the team, transfers and how the club is run."
AFTV is also available on YouTube and on a dedicated AFTV tablet and smartphone app. The YouTube channel currently has more than 750,000 subscribers.
In addition to AFTV, Lyle is also the presenter of Channel 4's The Real Football Fan Show.
Further speakers for SportTech will be announced shortly.