ATEME to debut latest Kyrion encoder for broadcast distribution
ATEME will launch the KyrionTM CM5000 encoder for broadcast distribution at at IBC. Targeted at Digital Satellite News Gathering operators, The Kyrion CM5000 Encoder is available in three main configurations: Single channel, single channel with built in satellite modulator, or dual channel.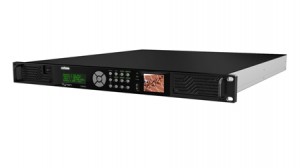 "We have developed this new model with a single purpose: Placing the operator at the heart of the design process," says Rémi Beaudouin, Director of Product Marketing at ATEME. "This translates in a long list of new features and enhancements. The CM5000 can be distinguished by its very comprehensive front panel – which includes video monitoring – the ergonomics of its user interface, and a lot of details, specific to truck or flight-case operation, such as shortcuts to reduce the set-up time.
"The CM5000 weighs less, consumes less power, boots faster and operates more silently than our other contribution models," he continues. "Yet it is definitely a Kyrion, leveraging our unique FPGA encoding core and ready to receive our latest firmware for video quality enhancements and encoding delay optimization."
Ateme will also exhibit a combination of the Kyrion distribution MPEG-2/MPEG-4 encoders with the SR1000 rate allocator, ideal for terrestrial and satellite broadcasters that need to squeeze more channels in a mux without compromising video quality
The company will also demonstrate TITAN compression performance using EAVC4 – ATEME's latest software encoding core – in comparison with market alternatives.
Finally, Ateme will demonstrate HEVC encoding, the upcoming compression standard, on one of the very first 4K TV displays commercially available.