ATP Media and LiveWire Sport hail Tennis TV social success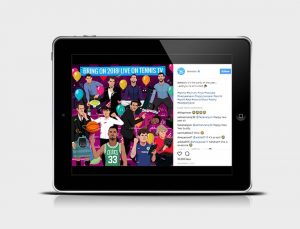 ATP Media and LiveWire Sport recorded record numbers across Tennis TV's social media channels in 2017 and say that they will be building on this success for the latest tennis season. Throughout 2017 ATP Media and LiveWire led a new dynamic, video-first approach on social media for Tennis TV, the official live streaming service of the ATP World Tour.
By the end of the 2017 Nitto ATP Finals, the season-ending finale at London's O2 Arena, Tennis TV had added over 500,000 new fans across Facebook, Twitter, Instagram and YouTube, ending the year with over 1.2 million followers overall, up 74% year on year.
Total interactions in the same period grew by 357% year on year with the focus on video driving engagement and generating 240 million video views, an increase of 546% on 2016.
The impressive results generated by the video-led approach to fan engagement was featured by Facebook's series of 'Success Stories' case studies in 2017.
The first phase of the strategy was focused on maximising Tennis TV's rich video content, which included: near-live clips to drive tune-in; ATP Archive and live streams to build tournament awareness; and extensive access at ATP tournaments, including behind-the-scenes tours with players, practice sessions and walk-ons.
In addition, by supplementing and supporting ATP Media's dedicated social media team on site at key ATP tournaments, LiveWire Sport has helped deliver: co-ordinated content planning with stakeholders; innovative use of Instagram Stories, including player takeovers, helping to promote the tournaments and driving tune-in; GIFs and animations to increase engagement beyond the tennis audience; and content targeted to increase interaction with younger demographics.
In 2018 the next phase of the strategy will entail: ATP Media delivering video created for social media to its rights holders to help increase viewership and drive tune-in for broadcast partners; further collaboration with the ATP and tournaments to help coordinate content distribution across all social channels; and a continued focus on growing engagement with younger audiences and promotion of the next generation of star players.
Stuart Taylor, Digital Director at ATP Media, commented: "Working with LiveWire to develop a coherent social media strategy for Tennis TV has generated some fantastic results. We're looking forward to the next phase and continuing to develop ATP Media's social media strategy to drive and engage audiences with the ATP World Tour live product, whether on television, digital or via social media."
Caroline Cheese, director and co-founder of LiveWire Sport, added: "This has been an incredibly rewarding project to work on and we are absolutely delighted with the results of our partnership with ATP Media in year one. We are in the initial phase of a long-term strategy, and we're really excited about what's still to come."