ATP Media, AWS and Gravity Media complete virtualised live production proof of concept at the Paris Masters

ATP Media, Amazon Web Services (AWS) and Gravity Media used November's Paris Masters tennis tournament to carry out a large scale multi-vendor Proof of Concept (PoC) designed to evaluate virtualised live sports production in a real-world setting.
The project took place during the first four days of the ATP Masters 1000 event, used the AWS platform and made use of production facilities Gravity Media's offices in Farnborough, UK.
Having created a 'shadow' of the main ATP Media production facilities on-site in Bercy, Paris, the PoC saw a fully produced live main court feed created, using an experienced freelance director, replay and graphics operators.
For the purpose of the test, vendors were invited to demonstrate the full capabilities of their solutions across numerous tennis matches whilst being operated by impartial freelance talent in a live broadcast environment.
As well as working in a stand-alone configuration, the testing included various combinations of different vendors products, so that interoperability could be assessed.
"To have the time to be able to experiment with combinations of Vendors interoperating with each other and to understand the benefits and limitations of the single Vendor solutions is invaluable."
From the main court in Paris, twelve live camera feeds, with audio, and two Hawk-Eye ball-tracking feeds, were contributed from Paris over fibre, via AWS Elemental Media Connect, into a dedicated Virtual Private Cloud (VPC) in the eu-west region. The vendors deployed their solutions onto instances in this VPC.
Deltatre, ATP Media's match and world feed graphics partner provided live match graphics via a Vizrt instance, also running in the VPC, powered by live data feeds delivered from site.
As well as directing live matches, with graphics and replays, an instance of Adobe Premiere Pro was running in the VPC, controlled via a NICE DCV desktop client. Editors were able to access content and edit in a fluid, real-time manner and share content back to the live production.
The Gravity facilities in Farnborough provided an additional aspect of discovery as the industrial unit was not "on-net" in terms of being fibred to ATP Media's global fibre network, so the two PCR's that were built had to run on a standard business grade internet line.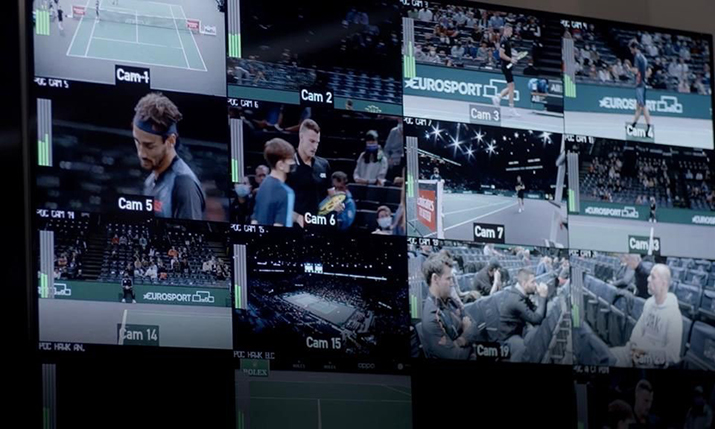 ATP Media CTO Shane Warden described the PoC as a "unique opportunity for us to discover the reality of using AWS cloud services in an end-to- end live sports production across a number of days driven by expert freelance operators."
"To have the time to be able to experiment with combinations of Vendors interoperating with each other and to understand the benefits and limitations of the single Vendor solutions is so invaluable as we look to create our roadmap to this exciting future and all the benefits it can bring," he added.
The key aspects of broadcast production functionality that were evaluated in this PoC were:
Live video mixing, including use of multiple ME's, Transitions, DVE's, Keyers and physical control surfaces.
Ingest and recording.
Slow-motion replay.
Scoring and other data-driven graphics.
Multiviewer generation and distribution to remote users.
Audio mixing.
NLE Editing (fast turnaround) as well as clipping, creation of melts and archiving.
Ed Tischler, Gravity Media MD, EMEA added: "This PoC marks a significant moment in Gravity Media's commitment to virtualisation and demonstrates how far this technology has progressed and the advantages it can bring. We're working closely with AWS and manufacturers to continue to diversify our offering to incorporate more off-prem solutions and ultimately to realise the fully managed end-to-end virtualised solution our sports clients want us to deliver.'
Participating vendors included Grass Valley, Vizrt, Simplylive, Sienna ND, Deltatre, Grabyo and MAVIS.
ATP Media is the broadcast and media arm of the ATP Tour.
To find out more about the PoC you can watch SVG Europe's exclusive virtual panel discussion below.
---
Virtual Panel Session – ATP Media PoC
---