Avid joins SVGE as Gold Sponsor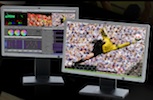 SVG Europe is pleased to announce that Avid has joined the organisation as its latest Gold Sponsor. As the company's own website puts it, "From the most prestigious, award-winning productions to music and movies made at home, Avid creates the technology that people use to make the most listened to, most watched and most loved media in the world." Plus, of course, it's recently started pushing hard into the sports market. Anyway, here's a potted history of the company, and it's a fairly fascinating one.
Avid was founded by Bill Warner in 1987 when he discovered a way to copy videotape footage in real-time to digital hard disks.  This invention allowed a video editor to use a computer to easily view shots, make cuts and rearrange sequences faster than traditional tape-based methods.  That pioneering discovery created a new "nonlinear editing" – or NLE – category in the media and entertainment industry, forever changing the way people edit moving video and film images.  Today, the company's flagship digital video editing system, Media Composer, is used by the majority of the world's professional film and television editors.
As Avid's digital video editing tools became a standard among professional picture editors in the mid-90s, Digidesign had also created a new audio category in the media and entertainment industry.  Digidesign's Pro Tools "digital audio workstation" – or DAW – quickly began replacing tape-based recording studios, revolutionizing the way composers, recording artists and sound engineers created and recorded music.  Seeing an increased convergence between digital video and audio, Avid acquired Digidesign in 1995, paving the way for Avid's leadership position in its core audio and video segments.  Today, our Pro Tools software is a preferred choice among professionals using digital audio workstations, and it has been instrumental in the creation of the world's most recognizable recordings in popular music, movies, television shows and radio broadcasts.
In the mid-to-late 90s, business computing evolved to connect multiple individuals across local area networks (LANs).  As the leading provider of digital audio and video creation tools, Avid saw an emerging opportunity to enable groups of picture and sound professionals to collaborate on projects. That's because regardless of the medium – a movie, television program, music recording – most productions involve multiple content creators, where individuals with specific skill sets needed to work on certain aspects of a production simultaneously – such as picture editing, color correction, special effects, sound design, dialogue editing, scoring and mixing, just to name a few.
In 1999, Avid was the first company to introduce true network-based collaboration to the world of digital media production.  Avid Unity MediaNet, a shared-storage backbone that allowed multiple people to simultaneously access and share media files, was an innovative breakthrough, empowering producers to complete projects in a fraction of the time it used to take.
This transition to team-based media production introduced a wholesale shift in understanding customer challenges and requirements.  While advancing the development of individual audio and video products remained a priority for professionals, equally important was the need to study complex workflows – or the process for managing the lifecycle of a given project from start to finish.  This philosophy is at the heart of every interaction that Avid has with customers today, and has led the company to develop a range of pioneering production and workflow management solutions – such as Interplay, the industry's first nonlinear workflow engine that links multiple people and tasks within the production process.  Since its introduction in 2006, Interplay has been deployed at more than 500 customer sites worldwide. Another is Avid iNews, a revolutionary computer newsroom computer system (NRCS) that ties together a range of news production tools – from Avid and third parties – to streamline the process of completing a news broadcast and getting it to air.
With the proliferation of digital media content as a mainstream communication medium, Avid recognized a distinct relationship between people creating audio and video at home for personal use all the way up to professionals working on blockbuster films, hit songs and news programs. The reality is that the home enthusiast of today is often tomorrow's professional, and today's professional is often this weekend's enthusiast.
As a result, Avid has greatly expanded its core audio and video portfolio in recent years with complementary technologies that not only empower beginners to cut their teeth on the same tools used by professionals – but that also round out the end-to-end solutions we offer to customers who've asked us to address their evolving needs.  A handful of acquisitions have contributed to this growth, including:
M-Audio (acquired in 2004) – allowing Avid to offer a broader range of complementary audio tools such as speakers, microphones, keyboards, digital DJ systems, and I/O interfaces;
Pinnacle Systems (acquired in 2005) – allowing Avid to enter the worldwide home video editing market with the number one selling Pinnacle Studio software;
Sundance Digital (acquired in 2006) – allowing Avid to enter the broadcast transmission automation market with software known for its ability to openly link to a broad range of third-party broadcast applications; and
Sibelius (acquired in 2006) – allowing Avid to extend its reach into the professional music composer and education markets with a leading notation software solution.
With all of these offerings coming together under one brand, today Avid serves customers with integrated digital media production solutions like no other company. This integration lives in the way we have physically fused applications together as well as the way we're exploring bundled offerings that can meet new and emerging customer demands.
Some examples of physical system integration include the reengineering of our Pro Tools software to run on M-Audio I/O interfaces. Pro Tools and Media Composer systems now communicate with one another through Video Satellite, which allows editors to take advantage of a more efficient workflow by bringing Avid HD and SD video playback into the audio workflow. And with Satellite Link, audio engineers can control up to five Pro Tools|HD systems as one to handle even the largest soundtrack productions.  Music composers can take advantage of Sibelius notation features from within the Pro Tools user interface. Our Sundance transmission automation systems can control content stored on Avid broadcast servers.
Collaboration, end-to-end workflows and integration are just the beginning. Customers want solutions that offer maximum flexibility. They want solutions that can work seamlessly with other third-party workflows and products. They want solutions that give them the ability to work in the widest context possible. For years we have worked with our customers and third parties to evolve our solutions to meet customer needs. Openness is a design commitment, built into every Avid product from its inception. Today, our solutions work with a majority of third-party formats, plug-ins and technologies, putting greater flexibility and choice in our customers' hands and removing limitations to how creative and productive they can be.
Avid customers embody a wide and varied spectrum – from the millions of video and audio enthusiasts who use our home editing solutions, to the world's largest and most complex media enterprises who tap into the power of our end-to-end solutions and all the individuals in between. Regardless of where a customer falls on that continuum, each one of them aspires to use their talents to transform stories into media they can share with family, friends or even the world. We invite you to learn more about our global customers and the solutions that are helping them realize their dreams.
Film & Production TV. From indie and feature films to the full gamut of TV programming spanning studio productions, reality shows, episodic dramas, live events, commercials and music videos, Avid video editing tools are the standard that professionals around the world rely on every day for delivering productions on time and on budget.
Video Editing.  In addition to editing films and TV shows, creatives around the globe use time-tested Avid video editing software and hardware to deliver compelling home videos, Web content, and wedding and event videos.
Music.  Avid music production tools are the standard for top recording studios and Grammy®-winning artists across all genres, while also redefining the personal, mobile and project studios that make the thriving indie music and digital DJ scenes possible.
Live Sound.  From small shows to world tours, clubs to theaters, and corporate events to mega-churches, A/V professionals around the globe rely on Avid world-class live sound production gear to deliver ultimate quality, ease of use and creative flexibility.
Broadcast.  Avid's open, scalable solutions and services for audio and video production, asset management and automation meet the mission-critical requirements of national, local, cable, satellite and online media companies around the world, delivering second-to-none tools that build audiences across any channel.
Education.  Avid products drive creative education in schools, colleges, universities and career schools around the world—from children making podcasts at elementary school to film students learning advanced production techniques in preparation for the professional world.
Changing customer needs, the continued convergence of digital and audio and video technology and the requirement for strong ROI have created an environment that reinforces the demand for companies who can deliver innovative solutions. Our longstanding heritage and commitment to innovation that began in 1987 continues today. We work tirelessly with our customers to develop the solutions and services they need to be successful – because we share their passion and talent for creating the most recognized media in the world.  That's what makes us different.  That's what makes us Avid.