Batcam Returns: F1 trials live UAV system on Austrian Grand Prix coverage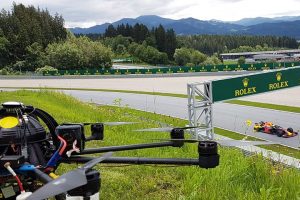 A Batcam Live UAV was trialled by Formula One Management (FOM) for the first time this weekend (29 June – 1 July), providing overhead shots of four of the race corners during coverage of the Austrian Grand Prix.
The UAV, fitted with a Sony camera and a DTC Domo Broadcast (formerly Cobham TC) RF link, gave the race director HD images of turns three, four and five and into turn six from heights of up to 80 metres. The drone was able to provide pictures covering a 250-metre area.
The shots were made available across all three days of the Grand Prix including practice on Friday and qualifying on Saturday.
Batcam head of operations Alastair Soutar told SVG Europe ahead of the race that he hoped Batcam would be successful enough to be used regularly on F1 broadcasts.
"Batcam has never been tested on F1 before, although FOM did try similar technology involving a tethered system but this failed to get off the ground," he said.
"Batcam has operated at Formula E in New York and earlier this year we were out in Mexico for another Formula E. This is the first F1 [test] but we feel it has the potential to be a permanent fixture."
The Batcam system, piloted in Austria by Martyn Ball, has also been used on Sky Sports' speedway but F1 provides certain unique challenges, added Soutar.
"Tracking the F1 car is harder because of the speed. The Batcam crew operating also need to have a good knowledge of the F1 drivers and cars so they can identify them from the team colours."
Race coverage from the Spielberg circuit in Styria was shown all across Europe including the UK where it was available live on Sky Sports and Channel 4.
The Austrian Grand Prix was won by Red Bull's Max Verstappen.