BBC on course to produce live sport entirely in the cloud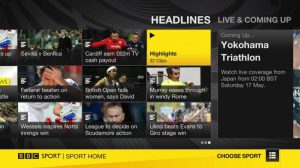 The BBC's move to ramp up coverage of sport online is part of a comprehensive strategy to shift more – and eventually all – of its live event production onto software and into the cloud.
"We at the point of transition from a place where IP is being used for contribution but with conventional gallery production, to a world where everything will in the cloud," says Tim Sargeant, Head of Production System and Services BBC North and Nations (whose remit includes BBC Sport).
In what BBC Director General Tony Hall dubbed "a reinvention of free-to-air sports broadcasting" the broadcaster has announced plans to produce and distribute an additional 1000 hours a year of sports online.
These will be predominantly niche sports accessed via the BBC Sport website and BBC iPlayer but more content from the BBC's portfolio, including of the Winter Olympics, will also be given an IP treatment.
This is in line with moves since 2012 to build out the Corporation's IP capacity. "It would simply not be possible to deliver 1000 hours of additional sport on budget without either the internet infrastructure or the IP production techniques we are now able to use," says Sargeant.
The core infrastructure of encoders and networking capacity to points of presence and onward distribution with content delivery networks (CDNs) was built to deliver 2500 hours of IP content during the 2012 Games.
"The long term plan was always to build on this," explains Henry Webster, Head of Media Services in the Corporation's Design and Engineering Platform group. "We've not had to hire in capacity."
The area of focus since 2012 has been around distribution at volume. "2012 was by far the biggest streaming effort we've ever done but since then there's been enormous and continuous growth," notes Webster. "Our last biggest peak to date was around the Euros (the England V Wales game last summer saw 2.3 million unique browsers watching online against 9.3m viewing the TV broadcast) and we expect to be breaking those records again next year."
Wimbledon is another highly popular piece of live streamed content for the BBC but the World Cup from Russia is likely to smash streaming records for the BBC and most other rights holders.
The hub of the BBC's live stream infrastructure is dubbed Video Factory. This is packed with Elemental encoders for transcoding contributed live streams into a single Adaptive Bit Rate (ABR) set. Separately, the streams are packaged into varying formats for different devices mostly using HLS and MPEG DASH with some Flash to service platforms still using it. The BBC is also working on an internal delivery network project again to increase capacity and to manage cost.
The packaging process is performed in the Amazon Web Services (AWS) cloud with the encoding operation split between AWS and on-premise. "A lot of capacity which we built for the London Olympics was on-premise kit but increasingly we're doing live events entirely in the cloud," adds Webster. "A lot of work is being made to ensure our origin servers can cope with spikes in load back from the CDN."
Streamlining costs
A key part of the equation is rollout of remote production to further streamline costs. "There are a variety of routes for this," explains Sargeant. "We've already covered some early rounds of rugby league with just a single camera which is then IP contributed back to base where we add BBC commentary. It's a very light touch production and the production standard and technical requirement is lower than you might find on BBC One. It won't have 14-camera switching, the graphics will be fairly modest and, because it's an online offer, we feel viewers don't mind if there's a holding card at half time rather than lots of rich analysis.
"We are at the point of transition from a place where IP production is contributed back to base and passed through a relatively traditional gallery with comms and graphics and switching towards a scenario where all of that takes place in the cloud. We are gradually increasing the amount of workflows and processes we operate in the cloud to allow us to do those very basic production activities, then to perhaps switch a couple of cameras and mix an additional audio signal and on to a world where all conventional production tools are software running in the cloud controlled by web browser."
This technology is common to pretty much anything the BBC streams over iPlayer, notably multicam live events Springwatch and Glastonbury.
There are two other production scenarios. One is use of 3-4 cameras with a very low cost on-site production capacity and local switching before passing into the IP network. Another instance is where the BBC will enhance the live stream already being captured by sports federations for social media platforms or their own websites. The British Basketball League (BBL) is an example where the BBC might take some existing production and overlay its own commentary.
Currently, the BBC's live stream sports efforts are destined for its own platforms. Discussions are taking place about the merits of distribution to non-BBC platforms – such as Facebook or YouTube.
"The goal is to advance technology that scales on demand and to move away from a world of defined 24-48 channels," says Webster. "It's a world where we flex capacity up and down in an ad hoc way."
Does that mean scope to deliver a 4K stream? "At the moment there's not a massive demand for that but it's fair to say that most of our technology is internet and software based and therefore agnostic to resolution," he responds. "It's very straightforward for us to scale to deal with higher bit rates and larger frame sizes. IP opens up the possibility of delivering higher rez if that is an option."
Since all that's required for switching is a web browser and internet connection there is less need for a dedicated physical sports production centre. "We are in a hybrid world where some events will still come through the gallery in Salford and others where production will be more self-operating and not dependent on a particular centre," says Sargeant.
Sports coverage produced and delivered over IP currently includes rounds of the FA Cup, ATP World Tour Finals, Women's Ashes from Australia, Trampoline Gymnastics World Championships and Scottish International Open Bowls and Women's Soccer League.
Streaming challenges
It should be noted, of course, that live streaming is notoriously bedevilled by a number of issues including buffering and latency.
"There are a bunch of things we don't have good control over such as people's last mile connection," admits Webster. "We do have control over ensuring we have capacity to delivery against those large numbers and we work with multiple CDNs to ensure that we have redundancy and that we scale to meet the demand."
In announcing the sports plan, BBC DG Hall admitted the BBC has been forced to evolve as a result of the budget for live sport being slashed. "As we have shown time and time again, we will not stand still…not if we want to meet the changing demands of sports fans, not if we want to remain relevant in the media's most competitive marketplace.
"While we're privileged to be funded by the licence fee, it's no secret we don't have the same deep pockets as those we must now compete against but we have unique qualities that are essential for those sports who want to ensure their events are available to – and able to inspire – the widest possible audience."
In January Hall outlined a strategy to "totally reinvent the iPlayer by 2020 to increase its reach and become a "must-visit destination".