BBC Studioworks gears up for September launch with Imagine, Riedel, Sony and Studer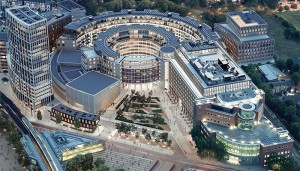 In preparation for a September 2017 opening, BBC Studioworks has announced that Imagine Communications, Riedel, Sony and Studer are confirmed as technology partners helping to deliver its state-of-the-art studios and post production facilities at Television Centre.
When it opens later this year, the new broadcast facility will be used by broadcasters and independent production companies to produce content ranging from sitcoms and panel shows through to 'shiny floor' entertainment and event TV, both live and recorded.
Speaking about the technology fit-out project, David Conway, Managing Director at BBC Studioworks said: "The broadcast infrastructure and kit we have selected needs to be robust and flexible to meet the demands of our customers.  Having undertaken 18 months of customer consultations and technical evaluations, we believe we have established a technology ecosystem that meets our customers' requirements both now and in the future."
Studioworks has appointed Dega Ltd to manage the complex systems integration works across the new facility. Dega is working closely with Sony, Riedel, Studer and Imagine Communications to integrate the multiple systems across the site.
For cameras, visions mixers and monitors, Studioworks employed Sony's 'open standards' approach to integrate 4K IP solutions with existing HD facilities, offering optimum value and choice for incoming productions. Sony studio cameras, including HDC-4300's, XVS switchers and more than 200 monitors, including OLED screens, will be installed across the three TV studios.
Hardwired and radio communications systems are the bloodline of any television studio, and BBC Studioworks is the very first studio provider to include Riedel's new wireless communications solution. Designed for flexible and constantly changing production environments, this will be integrated with the distributed Artist fibre based intercom platform. It is anticipated that this will provide a whole new level of robustness in production communications, user flexibility and performance.
Television Centre's audio and video routing required futureproofing to support 1080p50, as well as UHD1 and other HDR formats, and also support emerging IP standards. Imagine Communications provided a Platinum IP3 routing platform solution across the three studios to support the most challenging applications in a live production environment. The powerful signal routing, distribution and monitoring capabilities of Platinum IP3 have been selected to enable Studioworks to easily adopt any future technology innovations.
The routing solution will feature one 28RU frame dedicated to Studio TC1, and one 28RU frame handling studios TC2 and TC3. In addition to Imagine Communications SDI Routing for traditional HD contents, Sony provided the IP Infrastructure enabling 4K.
The new sound galleries at Television Centre will be fitted with large-scale Studer audio processing solutions that will provide pristine sound for broadcast. Large-scale mixing consoles for broadcast, including a Studer Vista X, Studer Infinity Core and Studer Glacier, will act as the backbone to BBC Studioworks' audio set-up. The interfaces of the consoles afford the operator a quick and easy solution in high pressure performance situations, and the ease of reconfiguration also offers the studio a fast turnaround between the different types of productions that will be housed in Television Centre.
Conway said: "Television Centre remains dedicated to what it has always been most famous for – creating unforgettable television. Our customers love working with innovative, new technologies, but they also value familiarity and reliability. We pride ourselves on taking a collaborative approach with our customers and technology providers and have made sure that the equipment at Television Centre is the very latest and most sought after by production professionals.
"When it opens in September, Television Centre promises to be the ideal mix of in-demand technology, location, pricing, staffing, and logistical set-up. There is a genuine market excitement about the new facilities."
Sitting within a media-focused site in the centre of London, Television Centre will provide over 22,000 sq. ft. of new studio space to the market as well as new edit facilities, all served by an array of flexible support areas. Television Centre is planned to be the most up to date and flexible studio and post production facility in the UK.