BBC World Cup graphics team wins RTS Craft & Design award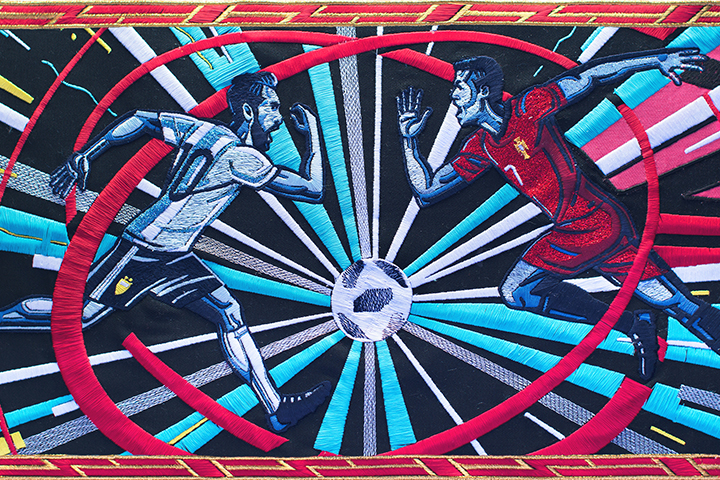 The BBC Sport and BBC Creative teams that devised the promos and graphics concept for the BBC's coverage of the 2018 FIFA World Cup in Russia were rewarded with an RTS Craft and Design award last night in London winning in the 'Design – Trails & Packaging' category.
Working alongside animation company Blinkink, the campaign was praised for being "iconic in its approach, ambitious in its scale and unique in its design."
The marketing initiative started with an animated film, The Tapestry, directed by Nicos Livesey, that took viewers on a journey through iconic moments from the World Cup's illustrious past, and introduced the new faces that would create memories in Russia.
The team modernised the traditional tapestry technique to create a dynamic film in which every single frame was individually embroidered. More than 227,000 metres of thread were used to create over 600 unique frames of tapestry.
This visual style then became the look and feel for the BBC's coverage, extending into programming graphics, website design, social media and BBC1's look, among other things.
The judges said that they felt the concept was a "simple idea" that was "meticulously considered", highlighting the animation and the typography and the detailing of the weaving machine.
Other sports-related winners on the night included Ian Grech, Mike Carter and Kevin Evans who won in the 'Editing – Sport' category for the opening music sequence for BT Sport's coverage of the Champions League Final between Liverpool and Real Madrid.
Director Micky Payne also won an award, picking up best multi-camera work for the BBC's coverage of The London Marathon.
The judges praised his work for offering "great coverage and good use of technology with helicopter and radio cams on bikes" adding that "London's landmarks featured well to give a great geographic sense of being there."
The RTS (Royal Television Society) Craft & Design Awards recognise excellence in broadcast television in 29 categories from directing to make up design.
The prestigious awards were presented at a ceremony hosted by comedian and actor Tom Allen on 26 November at the London Hilton on Park Lane.