Inside BBC's Match of the Day move up to Salford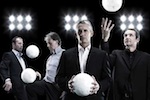 The BBC's flagship football highlights programme, Match of the Day, recently moved up to the new BBC Sport buildings in Salford, and according to senior producer, Ian Finch, the transition went rather smoothly. Good job too when you're turning around a whole Saturday's EPL fixtures in a handful of hours for an 80-minute evening programme.
"The thing we were most worried about was the transition to a new edit system and a whole new bunch of editors, as we were used to the pool of freelancers we had based in London," says Finch. "But we had a month of dual-running: still on the air from London and making back up shows in Salford as well, and that ensured everything went well."
The team is currently working on Avid kit, but will make the move over to BBC Sport's platform of choice, Final Cut Pro, before the end of the current football season. "We have an edit suite per match and a producer and editor per game," explains Finch. "The match feeds are recorded as they come in onto a server and logged in the edit suite. Based on those logs and the programme length we give each team, they'll put together the edit, add in graphics provided by our graphics company, and that will all be rendered out to a LSM/EVS where it's ready for playout to the programme live."
The BBC covers three matches per week. One of those games will have 10 cameras on it, the others anywhere between six and ten, while the remaining games are covered by Sky (both broadcasters sharing pictures and facilities for post match interviews as well). The BBC sends its own commentary team to each match, with their audio coming down one circuit, Sky's down another.
It's not a wholly tapeless operation yet, as much of the archive has yet to be digitised, but it is flexible and it is astonishingly efficient.
"Some games can initially be on the running order in last place, but if it ends up being a 5-3 stunner it can lead the show. On the 21st December we had a midweek show where we were on air at 10.45pm in the evening and the majority of the games didn't even finish till gone 10pm. We printed the scripts ready to go to air and then somebody scored a couple of late goals and the whole running order changed and we had to rewrite them."
Finch says experience is the key in meeting the tight deadlines the show demands, but when faced with that sort of turnaround, even experienced people feel pressure. "That is when we double up and throw two producers at each game: one sits there and logs the game as it comes in and another starts working on the cut."
This weekend it's another seven games, but they will all be finished by 17.00. Five hours to cut and assemble 630 minutes of football into an 80-minute highlight programme? All in a day's work…