BBH delivers Shooters6 OB van for Middle East sport needs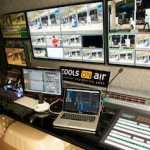 Leading broadcast equipment rental and sales company Best Broadcast Hire (BBH) recently unveiled an innovative and compact mobile broadcast solution based around ToolsOnAir's "Just:Live" broadcast suite of multi-channel ingests and playback tools for video broadcast professionals.
Constructed entirely by the local BBH team in Dubai, the Shooter6 OB Van was designed to address the unique requirements of Middle East markets by delivering a compact mobile broadcasting and graphics solution able to accommodate everything from news to sporting events.
This ambitious build began last December and was completed in just three months. The OB Van had its first official trial in mid February at JBR, Dubai, where it successfully provided full production services for a Top Flight Mixed Martial Arts competition before making its way to its official debut at Dubai's Cabsat Expo.
"Traditionally mobile units are designed and assembled in Europe, and then delivered directly to customers on location," explains Anders Frandsen, Project Manager at BBH. "With this project we wanted to design a mobile solution that would take into account the distinctive needs and environment in the Middle East, so we allowed our team in Dubai to lead the project from concept to completion. Their experience and first hand knowledge was absolutely critical to the success of this build. We couldn't be happier with their results."
Achieving a relatively compact size that could easily navigate crowded city streets was just one important design goal for the Dubai-based BBH team. Far more challenging was keeping interior of the smaller OB Van cool, while ensuring that the onboard system would be able to withstand severe desert environments-where sand and unpaved roads can wreak havoc on more complex and cumbersome solutions. From the early planning stages it was clear that a simple, streamlined system offering a lot of versatility would be the essential formula for success.
The BBH team quickly identified the perfect fit. By combining the ToolsOnAir  "just:live" playback and real time graphics software with an Apple Mac Mini, they created a compact yet powerful solution that facilitated everything from video play out and real-time graphics, to inserts, tickers and RSS feeds-all accessible through the system's intuitive, timeline-based user interface.
"The entire system consumes only 85 watts of power and fits into a single rack unit," comments Gilbert Leb, VP Sales of ToolsOnAir. "It really is the perfect combination for an OB Van of this type, or any application where space and power consumption are a concern."
Continuing the compact theme, I/O is provided via Black Magic Design UltraStudio 3D capture and playback interface connected to the Mac Mini via the high-speed Thunderbolt bus. A Ross video switcher delivers graphics with Key and fill over SDI, while a collection of monitors, switchers and HD recorders complete the installation. Space saving efforts successfully preserved ample room for the van to carry up to 6 Sony HXC100 HD cameras (the system is wired for up to 8).
"Response has been extremely positive," remarks Frandsen. "There are simply no existing OB Vans of this size, and certainly none that offer this much functionality. We've already received interest from a number of customers who are exploring similar options in their own territories."