BCE covers Luxembourg vs Portugal Euro qualifier for RTL and RTP
Last Sunday (17 November 2019) Broadcasting Center Europe (BCE) covered the Luxembourg versus Portugal Euro 2020 qualifier at the Stade Josy Barthel in Luxembourg City for the host broadcaster RTL Télé Letzebuerg. BCE also made extra productions for RTP Portugal.
As the host broadcaster, RTL Télé Letzebuerg asked BCE to ensure the technical coverage of the event. To do so BCE was on site with its HD outside broadcast van, two SNGs and the camera crew. The game was broadcast live in HD with a contribution to BCE's Playout Centre for RTL Télé Letzebuerg.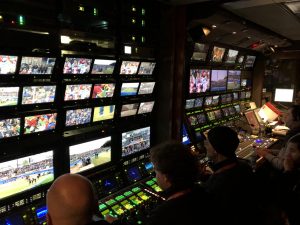 In addition, BCE ensured the live contribution to RTP playout centre in Porto. BCE provided extra camera crew as well as Portuguese commentaries to answer RTP's needs. On Saturday, the production team covered the press conference and the Portugal team training.
"BCE offers a wide range of services for live production and can answer any requirements for various customers at a time," explained Xavier Thillen, head of production at BCE. "While we are working on a daily basis with RTL Télé Letzebuerg, we are also able to answer the needs from international broadcaster such as the RTP with tailor-made services".
Broadcasting Center Europe (BCE) is a European player in media services, system integration and software development in the areas of television, radio, production and postproduction, telecommunication and IT. With more than 200 people, BCE serves about 400 clients in various sectors, such as TV channels, radio stations, film distributors, producers, advertising companies, telecommunications operators and public services.