Behind the scenes at Wimbledon 2021: AELTC's Paul Davies on COVID challenges, technical innovation and future plans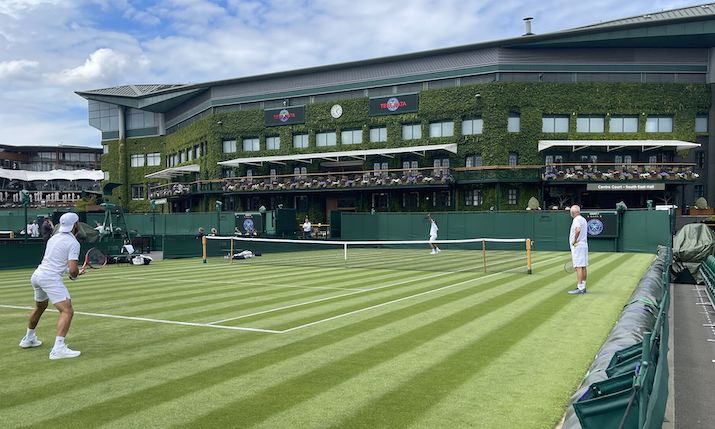 With freedom day in the UK initially scheduled for 21 June, there was a hope that Wimbledon could have been the first major live event to welcome full crowds. While that did not quite go to schedule, the huge amount of planning, the adaptability of the AELTC, technical teams and broadcasters, and the introduction of new features such as on-court interviews meant that the Championships' return was a triumph.
"There was a hunger for Wimbledon," says Paul Davies, head of broadcast, production and media rights, AELTC, speaking at SVG Europe's Back in the Game event in London on 28 July. "But things were continually changing. Normally we have about 2,500 international media and broadcasters come to Wimbledon on site, so we had to work with them in an ever-changing situation."
Bringing broadcasters to the UK
Much of this involved ensuring those essential personnel who needed to be on site could get into the country, while also putting in place a robust setup for those choosing to operate remotely, and responding quickly when travel rules changed.
"If you came from a foreign country to the Championships, you couldn't come from a red list country if you were a broadcaster. So it was all about getting people onto site and accepting that people were already doing things in a different way and that a lot of people didn't want to come to site," he explains.
For example, the Sky Deutschland team was due to travel to SW19 but decided against it the week before the Championships when it became clear that they would have to quarantine on their return to Germany.
"It was just about giving all our partners everything they could possibly need to deliver the Wimbledon experience in a way that their viewers, listeners, readers, writers would not notice the difference"
A key job for the AELTC, therefore, was to work closely with the Department for Culture, Media & Sport (DCMS) to get exemptions for critical staff as well as for the players themselves.

"ESPN normally sends 350 people and we managed to secure that they could send only critical people, so DCMS had to get a list of people who were going to play a meaningful, critical role in the Championships. There was also a big challenge in terms of the number of people getting pinged by the NHS COVID app. There were things you could think about ahead of the Champs and put procedures in place, but there were things that just came leftfield," Davies says.

Despite the challenges, Wimbledon continued to innovate, with the focus being on enabling everyone to deliver the Championships as they wanted, wherever they might be located.

"We worked very closely with The Switch," recalls Davies. "We put some extra lines and facilities between ourselves and the base at Stockley Park so we had 150 feeds coming out of Wimbledon – or the capacity to do that – so we knew leaving Wimbledon via Stockley or Post Office Tower, signals were getting out. It was just about giving all our partners everything they could possibly need to deliver the Wimbledon experience in a way that their viewers, listeners, readers, writers would not notice the difference."

Of course, for an event with the reach of Wimbledon, there was no one-size fits all approach to giving broadcasters what they needed.

"We're in over 200 countries, so each broadcaster we deal with uniquely; they want a different set of technical requirements," he continues. "Take Fox Asia, for example. They wanted to do a remote production but they wanted the ability to have the facility to switch all the feeds unilaterally. James [Muir, broadcast technical manager at the AELTC] put something in place, nothing new I know, but for each broadcaster we offer that facility where they could switch all the feeds remotely. So, for the 65 feeds we deliver – 18 court feeds, beauty cameras, everything else – at the flick of a switch they could send that down their lines."

Ensuring site safety

For those on site, things also had to be done differently, Davies explains: "Dealing with the technicians it was a case of making people feel comfortable – what was it going to be like for a camera person on Centre Court surrounded by a packed crowd right behind them when they have to maintain a two-metre distance from lines people and the crowd. We had situations where the crowd would get too close making them feel uncomfortable, so we reseated people who were near the cameras.

"Similarly, if you take one of the outside court mixing areas, you'd have a graphics operator, an EVS operator, a director, a production co-ordinator, so four people in quite a small area. We paired up directors so there were never more than two directors working in that room each day; graphics operators the same. The wipe-in, wipe-out side of things was very carefully monitored as well. There was always something every day that was challenging us, but we just had to deal with it and people had to have a can-do spirit."

One enforced change that proved particularly popular with players, crowds and the audience at home was the post-match on-court interviews.

"This is something I've been pushing for quite a few years, but it's not a particularly Wimbledon thing to do," reveals Davies. "The reaction has been fantastic and I think that's here to stay. But, in terms of doing other interviews, nobody could go into a press room so we had to deal with the technical side of that. We had a player hotel so we put a remote live camera into that situation and actually access to players was better than we'd ever had before. I think people saw the reaction from the players to the crowd doing an interview on court rather than in a broom cupboard off Centre Court was brilliant; you got an insight into them. We're all talking about 'how do you build the stars of the future?'; well that was the perfect way."

Full time job

While Wimbledon is at its busiest for two weeks of the year, activity doesn't stop for the remaining 50 weeks, as Davies, who has recently added head of media rights to his job title, is quick to point out.

"I'm taking on the media rights, which is great because you can see it through from the media rights side all the way through to the production, so you're servicing those contracts. During the Champs we announced two big deals, one with BBC, which is an extension to 2027 which takes it to 100 years, and a huge deal with ESPN which takes us to 2035, so to service that contract, which is worth a few million, will be interesting.

"But all the time we have a changing environment in terms of what's happening out there globally. Take Fox Asia, who are about to close all their sports channels in Asia. There's probably about £150 million of rights out there at the moment and we don't have a home in Asia from as soon as 1 October, so we're already deep in negotiations there. There's lots of deals like that going on all the time."

The AELTC is also looking into whether there's an opportunity to utilise its impressive technical setup throughout the year. "We've had a lot of people come and look at the facility and we think could we use this to do remote football, rugby or just as a resilience centre to use if someone's centre went down," adds Davies.

Whether that is deemed to be viable or not, it's clear that one thing's for certain; the AELTC is an organisation that does not like to stand still, so expect more innovation in 2022 and beyond.