Behind the scenes: BBC Sport's new 360 virtual Euro 2020 studio uncovered
Europe has been gripped by Euro 2020 fever since 11 June, and many of those football fans in the UK have been watching all the action on BBC Sport, which is presenting from its new virtual studio based at Dock10 in Salford, Manchester.
The 360 studio also marks the start of a new visual era for BBC Sport, which is keeping the 360 virtual concept and rolling it out into its football coverage going forward.
It has been designed under the watchful eye of BBC Sport creative director, John Murphy, with help from Dock10, AE Live and set designer, Ian Webber. The studio is an evolution of work the broadcaster began two years ago when it launched its first virtual studio at Dock10 for its Match of the Day coverage and other football output, using Zero Density and Unreal Engine.
The new system uses Mo-Sys camera tracking in the studio, with Zero Density as the inbetween render engine platform, and Unreal Engine for the final real time rendered delivery. Dock10 also provides a small Unreal Engine artist team to add to the studio output.
Continuous learning
On what this new studio adds to the fan experience that they were not getting from the previous version, Murphy tells SVG Europe: "A couple of things, I think. When we launched the Match of the Day studio [two years ago], we put ourselves into a kind of a stadium [virtual image], which at the time was great. And it was a big move for Match of the Day to go into that. But I think what we learned was that we had this virtual world, and we put ourselves into this big stage, and we actually made it too big. You lose that sense of closeness if you like, by making things too big and a bit too spacious.
"Unreal Engine real time rendering is photo realistic but you've got to optimise a lot because there's only so much that the current hardware able to deliver in real time"
"So with this Euro studio [we made] it circular, which brings the talent a lot closer [to the viewer] and brings it in so it's not so cavernous. Also, with the 360 imagery [for the Euros] it's giving the viewer just a feel of London or Rome or wherever for the match. We're not saying that we're actually there, but whilst they're watching [the match] it gives them that sense of they're there. I think that was the biggest thing for us, actually; just giving that viewer experience of being in the locations as we can't be there. That was the biggest plus for us."
Says Murphy on the Match of the Day virtual studio: "That was a big move for us at the time. We learnt a lot. In terms of the design aspect of the virtual studio, we've been in there two years now with the Unreal Engine, so we've learned a lot and we're fully behind virtual sets. We're doing a lot of projects in this [virtual] area and we're learning. The technology is moving on all the time, but I think we have to understand that there are limitations [to this technology] as well. It's okay thinking, "oh, well, we can do whatever we want". Well, that's true in a sense, but actually, in terms of performance of the way [virtual studio technologies] work, there is a limit on the sort of things that you can do well."
Obsession with glass
On those learnings, Murphy states: "Unreal Engine real time rendering is photo realistic but you've got to optimise a lot because there's only so much that the current hardware able to deliver in real time. If we're throwing things in like live stadium feeds and 360 windows you've got to kind of understand that there's a limit of what you can do in terms of performance; the computing power kind of behind it."
"The other thing is I have a big obsession with glass, like having glass windows and getting the real time reflections on the glass. But that eats up a lot of the rendering power. The designers [for the Euros studio have been] through a lot. We throw things at them and they start having kittens. It takes up a lot of optimisation.
He continues: "So I suppose overall what I'm saying is we've learned a lot in this field now, so we understand that yes, we can throw as many ideas as we possibly can, but we also understand that sometimes you have to kind of strip back a little bit as well."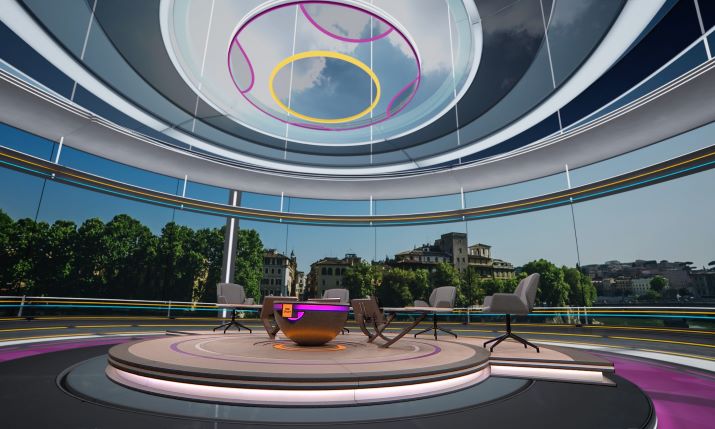 Moving forwards
Murphy comments on the rebrand and evolution of the studio for this years big football tournament: "For the Euros we've done a big football rebrand, which we've launched for this event, but we'll take it on into the new season of Match of the Day. What we decided to do was change the look of the virtual studio in Dock10, based more on a kind of circular theme because that's the whole idea around the rebrand.
"The whole basis of [this rebrand] was UEFA's idea of this Euro being in different cities with their brand all around, [providing] a bridge to the different cities across Europe. So we tried to tie into that with a 360 studio design. We brought in a new kind of physical central structure and seating and desk area to fit in with the rest of the brand, and then we built a 360 panoramic studio around that.
"It's just giving that feeling of being in that city where [whichever match is being shown] is being played, by using 360 photography, firstly [showing] a bit of city locations, and then as we get nearer to the match action we've taken 180 degree stadium feeds – four piece stadium feeds from the stadium – so we change from the city into the stadium. As we get into the match, you've got the stadium, you go into that screen, you into the match, come back out half time and you've got the stadium there. And then when we come back out post-match we go back into the city location."
The new virtual launched at the BBC base in Salford in March this year, amid various challenges. Says Murphy: "There's been quite a lot of virtual stuff going on, but I suppose the big challenge was COVID. When you're launching a virtual set obviously you can do a lot of the pre-design work on screen and on Zoom, but you've really got to see it on camera and in the studio.
"The second [challenge] would be all the changes at the Euros where it all [happened] up to the last minute, including some of the cities dropping out, which changes things for us. We also had plans for doing 360 photography ourselves at the [stadium] locations, but again, because of travel restrictions and COVID, we weren't able to do that. We were caught lucky and stumbled upon a company who provide 360 photography; we latched onto that quite late, actually. It was starting to get panicky! But we found them, it was great, and we got loads of locations from them."
Keep watching all the action from Euro 2020 live across BBC One, BBC Two, BBC iPlayer and the BBC Sport website and app