Former Belgium internationals join fans to watch 'Der Klassiker' online via Eleven Sports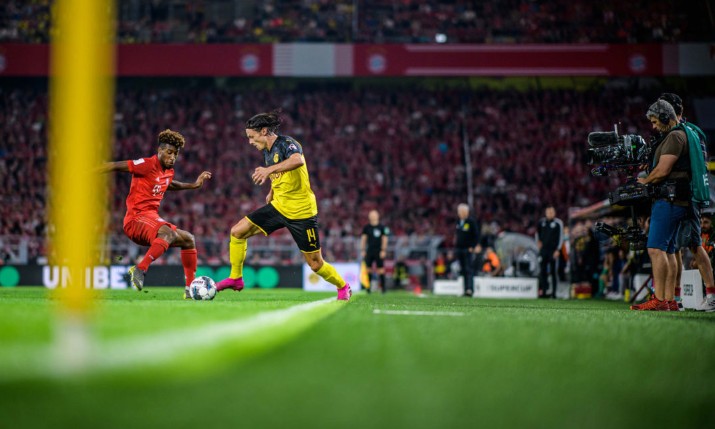 Eleven Sports sprinkled its 'Watch Together' service with a touch of footballer stardust at the weekend when it gave subscribers in Belgium the chance to enjoy Bayern Munich against Borussia Dortmund in the virtual company of two former international footballers.
Watch Together enables fans to watch live sporting action together with friends and family in the same online space at the same time.
Joining Belgian viewers in the Watch Together 'room' for the Bundesliga clash on Saturday were former Belgium internationals Filip Daems and Karel Geraerts.
The duo gave their reactions to the action on the pitch in 'Der Klassiker' with fans able to contribute to the discussion through a live messaging service.
Tom Middleditch, the global head of digital at Eleven Sports, discussing the unique offering, said: "Live sport is special because of the raw emotions that are attached to it and Watch Together enables fans to share these emotions and debate every moment of the action with their friends.
"We're always working on new ways to maximise fans' experience and the opportunity to watch top matches alongside former players and influencers is an exciting addition to the Watch Together offering."
Watch Together is available in Belgium and Portugal for fans watching UEFA Champions League, La Liga, Formula 1 and UFC, as well the Bundesliga.
Powered by the tech start-up Reactoo, it was launched in November 2018 in order to "drive engagement and make watching sport a fun and social experience for fans – even when miles apart," according to Eleven Sports.
Coverage of 'Der Klassiker' was produced by the DFL (Deutsche Fußball Liga) subsidiary Sportcast (pictured). 25 cameras were used in total including two corner flag cameras, a drone and an aerial camera system.
Augmented Reality (AR) technology was used to present team line-ups, player portraits and statistics. The technology was also used in conjunction with a drone.