BetaMedia and DBW put IP 4K HDR Esterna 14 truck on the road in Italy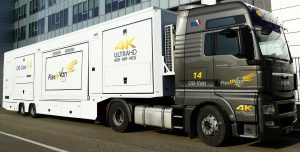 Italian production company BetaMedia recently joined forces with DBW to develop one of Italy's first IP-based 4K HDR Outside Broadcast (OB) vans, the Esterna 14. To blend incoming and outgoing signals for 4K/UltraHD HDR, HD HDR and HD SDR broadcasts, BetaMedia recently invested in 24 AJA FS-HDR converters for real-time HDR and WCG conversion.
BetaMedia delivers a range of television programming for clients including Endemol, Infront, and OBS, among others, with credits spanning Big Brother Italy, Master Chef, the Alpine Skiing World Cup, Olympics and Serie A Football Championship.
Capable of 4K/UltraHD and HD production, the OB van is based on a scalable FlexIP structure with operating dimensions that can accommodate up to 36 4K Sony cameras and 12 EVS XT4K servers. It also includes SAM/Grass Valley technology for IP and video switching, as well as gear from Stage Tec and Clearcom for audio and communications.
For HDR productions, the van uses an S-Log3/2SI/2160p50 profile. AJA FS-HDRs are used to convert signals from outside sources for a consistent look across production, and to convert outbound signals to match whichever flavor of signal each broadcaster requires.
"FS-HDR is extremely versatile and can serve most any signal function we need, so it was a natural fit for the Esterna," shared Rosario Messina, Chief Engineer and Technical Designer at BetaMedia. "If I have a signal coming in that isn't formatted for use in the pipeline yet, I can just run it through FS-HDR in realtime and the problem is solved."
"FS-HDR has been an excellent addition to the Esterna 14. We can easily send and receive incoming sources from far away with copper and optical inputs that can be switched via an internal matrix, in addition to standardizing or conforming new color spaces," Messina explained.
"FS-HDR also allows us to up and down convert, and we can vary the frame rate, deinterlace or synchronize as needed. Another advantage is the ability to vary between Level A, Level B, 2SI and more, and extract and deliver audio to the audio matrix in MADI mode."