Beyond the Bundesliga: Sky Deutschland "overwhelmed" by success of Sky Next Generation
Plans to roll kid-focused programming out into other sports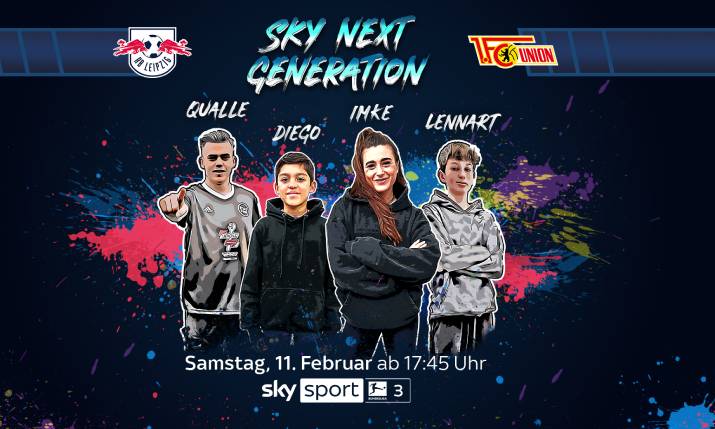 Sky Deutschland's new child-focused programming series focused on live Bundesliga matches, called Sky Next Generation, is taking off and will move into other major sports later this year.
Sky Next Generation is now a monthly feature in the Bundesliga calendar, with programmes made for, featuring, and using input directly from children under the age of 14 years old.
Sky Germany chose Der Klassiker between Borussia Dortmund and Bayern Munich, which took place on 8 October, to launch the programme. The second was FC Köln versus Werder on 21 January, and the third episode is set to take place this weekend with RB Leipzig versus Union Berlin on Saturday 11 February.
"Week by week it's a lot of extra work. It takes a village, but it feels like everyone is benefiting from it, and that's how it should roll"
Julia Böttger, director of operations at Sky Sport, says: "From the first one, which was on Der Klassiker, you could wonder why we used the biggest game from an operational point of view because it means extra people, extra track, a lot of extra positions, a lot of extra work. But I think it was worth all the extra efforts.
"From the beginning we decided to not change our main coverage, to keep it as it is and on the same channel. It's the same output [for the main coverage] and then [with the new coverage for children] we're keeping that as separate and making it feel great for a new audience. I think with keeping it completely separate, also with the new faces and the new people that came in – and also with the kids of course – I think that was a success from the beginning, making it unique."
The 'Next Generation' treatment could be rolled out to Sky Deutschland's coverage of other sports. Böttger says that the broadcaster has been approached by another major federation that is interested in creating its own Sky Next Generation programme. On how they came to Sky Germany, she says: "They were aware of what we were doing because we did Der Klassiker. I think that's the first time that it happened that way around; that they're coming to us asking if we could do a programme together. That is, I think, the biggest success that we could have."
Being approached by this federation about Sky Next Generation means others can also see the potential of a previously ignored audience for live sport, states Böttger: "I think they have the same challenges that we have. They can also learn from this and get new ideas for the future, even for their main coverage, or for a special kids section. We have the same interests," she notes, comparing federations to pay TV broadcasters. "It's tackling the same questions; they have the same interests [as us] so we work closely together. That's also what we did with Bundesliga. They're really open, so the DFL supported us from the beginning to introduce the idea to the clubs. It was supported by their management."
She adds: "Week by week it's a lot of extra work. It takes a village, but it feels like everyone is benefiting from it, and that's how it should roll."
Engaging kids and parents
Sky Deutschland decided to create a live football programme aimed specifically at children to engage that younger audience and simply see what the opportunities were in that segment.
Stephanie Mirlach, head of project management sports, Sky Deutschland, says: "From my perspective, to do something for the younger audience was something that was already in the back of our minds for a long time. We did some test cases, which included some apps, and then in September last year we just decided, "let's do it! Let's start without three months of preparation or analysis!"," she laughs. "It started out with a small project group and then it became bigger. I think it was really successful in that just a few weeks, we had everything set up and just started it."
Mirlach continues: "The target was to reach younger audience. We set the goal that [the audience] should be between eight and 14 years old, which should enjoy this new format. What we experienced – right from the first game – is that we did reach this target audience, but we also reached parents, and also in general people that are not that interested in deep sports analysis, stats and tactics, but who enjoy more the entertainment side of football, and see it more as an event.
"We were quite overwhelmed by all the positive feedback. There was not one negative feedback because I think people just enjoyed it. Of course, if you are like this stats fan or something, then you need to watch the other channel to have the clean coverage of this game, but I think we're actually quite happy with the results and the feedback."
She continues: "To reach this younger audience, we're not just [relying on] our linear broadcast; it's a lot around social media where the YouTube reach is even higher [with a young audience], and this is also the reason why we make the pre-match show freely available on YouTube and the Sky Sports' website."
While the Sky Next Generation programmes have already attracted a significant number of children aged three to 13, they have also pulled in parents in the 30 to 39 year old segment, when the figures for those age brackets are compared to the main Bundesliga channel viewing figures. However, the major success in numbers so far is on social media, where many children are consuming the new content.
Mirlach comments: "The social media numbers are really growing, even [when you look] from the first to the second game. We had 10 million views of social media posts on the second episode [of Sky Next Generation], which is really great, [compared to] the first one which had around three million views, so it's generating more awareness. The kids are all there on social media, so it's easier to reach them first on social media, generate momentum, and grow this across those platforms."
Inspirational programming
Böttger says the project team is finding the development of each programme inspirational: "From the first programme we were throwing in all the tools, all the ideas, and there are hundreds! Stephanie would come up with a new idea every week. It's so much fun. And then, after the second programme we thought, okay, also from a cost perspective, from the effort, all the work that we are doing could be streamlined somehow to make it a fixed set up [which we could] to apply to following events to make it also more plannable."
However, she says the great ideas coming in from the team have made it hard to resist implementing some of them: "But now with the next event coming up, we said, "oh, we're going to do some tweaks. We're going to bring some new things in". I think that is the flow of this project, to bring new ideas, to let them grow, to bring them to the table and then discuss them."
Böttger continues: "With all the attention that we now have on the kids Next Generation events, you get even more ideas. Then you can pick from that and you have to decide, "okay, this time we are going to try that". Then we know in four weeks time we're going to have the next event. Which is good because then those ideas are not lost."
Each episode so far has a different focus, from behind the scenes footage, with young presenters taking the cameras away from the pitch to show how football coverage is made by the Sky production crew, to esports and nutrition in sports.
Mirlach says on the format that while the themes and focuses of each episode have and will change, "the main concept is standard; that we have kid reporters, we have influencers, we have a commentator".
The children involved in the production are directly influencing the topics covered as well. Böttger says: "On the topics, we took that also from the kids' perspective, so for the first event they were really interested in the commentary unit; the buttons that they could push, the camera and all that stuff. So the next time we brought them into the OB truck to show them how we are cutting the cameras and as a kind of education piece, to show them how television is done. That was initially from the feedback and the interest of the kids, so we took that onboard, and took that into the next programme.
"Then, last time, they were talking a lot about FIFA and gaming because one of the guys was interested in that, and now we are taking this to the club [Leipzig] and we're going to focus on that."
Leipzig body cams
On the Leipzig game, Böttger notes: "From an operational perspective, this time we are going to have a wireless camera. For the first programme, we had four wireless cameras and a lot of work went into that. This time, it's one wireless camera and three handheld cameras that we are using for different positions. We are also going to bring a live camera into the stands, which we usually don't do, but there's a special kids section, so we're going to go there when it's allowed – you can't go there during the game – to get a few of the kids attending the game included in the coverage. I think that's going to be interesting.
"This time also, a big topic is the body cam. We had a body cam at the first event but we didn't cut it because there were so many tools [already in use] that we forget about it! It's an unbelievable story, but it was on the kid bringing the ball into the stadium and we should have cut into this personal view of the kid, but from a timing perspective, there was too much going on, so this time we're going to focus on the body cam, and also to try out a new body cam which will be tested [but probably not used in the cut]. That's going to be interesting; it's an iPhone in a case with a 5G Wifi mesh. So this is the flow that we are using; making sure that the coverage is good, but also testing new things for next time," she notes.
Evolving production
The production is evolving constantly, Böttger says. She refers to the emojis used as part of the player tracking on screen: "With the emojis, we had them for the first programme as an idea that really came in late, but [the emojis we used for the match] were too small. For the second programme, we made them bigger, so with object tracking, so you could track a player. Then, for example, also the manager; if we track the manager and he has a great idea, then there is an emoji that comes up that suits the scene. Also with the sound, you could also, for example, use a rocket if someone is really quick, so we decided on a few emojis to bring that in and the kids love it."
The graphics used in the programming – created with partner Netventure – is a key part of its success, Böttger says. They are larger than is usually used, in a comic style, and she says, "if we would think it's too big, then it's quite right for this programme!".
Sky Germany is also working on a new character to be the mascot for the coverage, called T-1000, on which Böttger says, "we want to bring into pre-match programming and maybe also when we are switching to our commercial breaks, to make this kind of "wow" effect, with him coming out of the field and looking like a robot".
However the T-1000 also needs to be, "filled with ideas, so we're going to work on this with a combination between the usual augmented reality (AR) stuff that we are doing, but also to combine it with Unreal, which is also something that we don't use on a regular basis, but this is also a good showcase to see what we can achieve with that," Böttger adds.
The children also now do their own unscripted commentary on the matches. Böttger says: "Now they also took it on the commentary, which was great, so the see [the match playing] on the monitor and they refer to that; they're getting comfortable with that. I think the commentary is the best piece and I didn't expect the commentary to be so good. It's surprising for us."
Mirlach and Böttger both feel that Sky Next Generation, as well as bringing in new audiences to sport, is also exposing children to the potential roles available in sports broadcasting. Following a casting call after the first programme which drew in over 100 young applicants, Mirlach says the commentator job was a big attraction for many of them.
She says: "For me what was surprising was that around 80% of [the children that came in for the casting said] their role model is Frank Buschmann who is our main commentator. They're very interested in commentating and of course also doing the interview stuff. There are a lot of young people who see commentator as a future job profile, which is cool and nice, but I think the whole broadcasting world is coming a bit closer to children via this format."
The Football Summit: Augmenting the Beautiful Game For more information and to register for the March 22 event, click here