Blackmagic Design and Grass Valley move up to Platinum sponsorship
SVG Europe is delighted to announce that Blackmagic Design and Grass Valley have increased their sponsorship from Gold to Platinum level. These companies now join the Platinum Sponsor group at SVG Europe that also includes Dolby, Euro Media Group, EVS, Harman Group, Imagine Communications, Limelight Networks, NEP Group and SOS Global.
Blackmagic Design has grown rapidly to become one of the world's leading innovators and manufacturers of creative video technology. And that's because its philosophy is refreshing and simple — to help true creativity blossom.
Blackmagic Design's founders have had a long history in post production editing and engineering. With extensive experiences in high-end telecine, film and post, harnessed with a real passion for perfection, Blackmagic set out to change the industry forever.
A company dedicated to quality and stability and focusing on where it's needed most; Blackmagic has created some of the most talked about products in the industry. World famous for their unbeatable codecs, Blackmagic envisioned truly affordable high-end quality editing workstations built upon Blackmagic software and hardware.
In November 2002, Blackmagic launched the DeckLink capture card and in doing so single handedly made working in true 10 bit uncompressed video on a Macintosh OS X system an affordable reality. The DeckLink card has become a market-leading product due to Blackmagic Design's philosophy of delivering whatever it takes to give creative editors and designers the very best quality tools.
CEO Grant Petty said, "Blackmagic Design is dedicated to allowing the highest quality video to be affordable to everyone, so the post production and television industry can become a truly creative industry." www.blackmagicdesign.com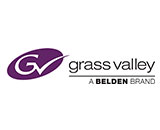 Grass Valley is a partner completely focused on empowering customers to create, control and connect content wherever, however and whenever it is consumed. In this ever-changing media landscape, content remains the most important element.
Many of Grass Valley's customers are faced with the need to create and support new workflows while continuing to operate their legacy workflows, simultaneously broadcasting through traditional channels, Over-The-Top platforms, and Video-On-Demand as well as to tablets, PCs, and mobile devices. Grass Valley solutions address those needs.
Grass Valley provides the innovative tools and expertise to help customers improve the efficiency of their operations while telling better stories to attract and keep viewers. To better equip professionals for the demands of today's market, Grass Valley provides cutting edge IP solutions based on open standards to help improve broadcasters' business agility as well as a wide range of 4K capture and workflow solutions capable of telling a story with stunning visuals. Whether HD or 4K, SDI or IP, transitional hybrid workflow or greenfield, Grass Valley delivers solutions that make customers more successful.
www.grassvalley.com