Blackmagic Design for new U17 World Cup workflow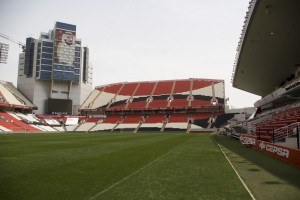 Blackmagic Design ATEM Production Studio 4K was deployed during the 2013 United Arab Emirate (UAE) U17 World Cup as part of a new live production workflow in the six host nation stadiums. Although 4K wasn't part of the picture on this occasion, the workflow does support the new Ultra HD format should it be required in the future.
Organisers approached Pulse Middle East to design and install the new system, as well as provide technical and operational support throughout the world championship of association football for players under the age of 17.
The Emirate stadiums hosting games during the U17 World Cup were the Al Ahli Stadium (Dubai), Mohamad Bin Zayed Stadium (Al Ain), Al Jazira Stadium (Abu Dhabi), Sharjah Stadium (Sharjah), Emirates Stadium (Ras Al Khaima) and the Fujeirah Stadium (Fujeirah).
Coverage of the World Cup's 52 matches was filmed by up to 12 HD cameras at each venue. HD-SDI signals were fed into an OB truck where the material was composited on a vision mixer and the clean programme feed was used to meet each of the host venues' in-stadium matchday video requirements.
Four separate down-converted HD-SDI programme outputs were taken from the OB van and fed into the stadium's ATEM Production Studio 4K and composited using the ATEM 1 M/E Broadcast Panel.
"Output one was a mixed program feed of the on pitch action, while the second output covered the stadium, capturing the supporters' reactions as the games unfolded. The stadium's production team then produced its own mixed program output, which was played out on the stadium's giant LED screens in 16:9 650i50," explains Rami Haber of Pulse Middle East.
The production team took a further two program outputs from the broadcaster, which were used for the television screens throughout the stadiums concourse, hospitality suites and press commentary positions.
Rami goes on to explain: "Although Ultra HD 4K wasn't a requirement for this World Cup, all of the stadiums involved expressed an interest in retaining equipment once the tournament had drawn to a conclusion. That's why it was important for the live production workflow to support SD, HD and ultimately 4K formats."