Blackmagic Design infrastructure for Tel Aviv Marathon coverage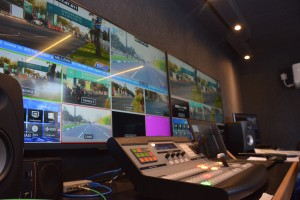 Regularly attracting more than 40,000 runners to the city, the Tel Aviv Marathon is one of Israel's most popular road races, and one of the city's core annual international events. Technical production company Point 2 Point Production was responsible for delivering all live coverage of the 2017 event, including big screen production around the marathon route for spectators and broadcast feeds for Israeli television channels.
Point 2 Point's owner, Erez Kuriel, reflected on the company's new OB van, which was built with a Blackmagic Design infrastructure and was deployed for the marathon coverage.
"We set up the van next to the start/finish line, and to capture the atmosphere and scale of the race, we set up four of our Blackmagic URSA 4.6K cameras, equipped with 7" viewfinders, intercom system and tally over Rockah Avenue, which were connected to the van via fiber optic. Simultaneously, to track the leading racers, we had one cameraman shooting from the back of a motorbike, and two drones also transmitting signals into the van.
"The live program mix was delivered through an ATEM 2 M/E Production Studio 4K paired with a 1 M/E Panel, with the team adding live graphics, runner and race information into the mix. Interestingly, the ATEM's multiviewer was not only used by the production team, but also by the race's safety and security team, so we had 2 50" LCD screens set up in the van. Signal distribution for the whole workflow is handled by the van's Smart Videohub 20×20.
"As well as transmitting to the screens throughout the course, we also provided a live signal feed for national broadcasters who were covering the event on their morning shows. We also captured the content using our HyperDeck Studio Mini recorders, so that our footage could be edited for clips and highlights for the Marathon's official site. The recorders are so compact, just a third of a rack, so they are perfect for an OB set up, where space is at a premium.
"The team did an amazing job and produced some fantastic footage which really captured the excitement and enjoyment that the race generated throughout the city. The Blackmagic production kit performed perfectly in this fast-paced live environment."