Blackmagic Design processor for Vienna ATP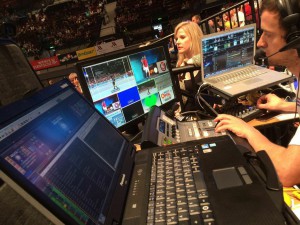 The Erste Bank Open in Vienna – which is part of the ATP mens' tennis tournament – deployed a big screen video production system built featuring the Blackmagic Design ATEM 2 M/E Production Studio 4K and Teranex 2D Processor to enhance the crowd experience at this year's tournament.
Event production specialist K-Zwei Kommunikation combined live match feeds from broadcaster ORF, player statistics, HawkEye line calls, music videos and crowd participation elements in a live programme mix.
"Blackmagic's ATEM 2 M/E Production Studio 4K helps us solve two key challenges within our live production; managing the sheer number of different video feeds that we are dealing with, and the need to transmit and mix embedded audio," explained Rene Melik of K-Zwei. "The switcher is compact enough to fit into our production kit, but the 20 inputs give us the flexibility we need, together with the audio mixing capabilities available through the ATEM Control Software.
"We rely on visual features such as picture in picture, for example when a trainer is providing analysis on the match, and SuperSource is very useful when we play games with the crowd, with spectators uncovering squares on a screen to guess the picture underneath. All of these elements mean we can deliver creative content that complements the action on court."
K-Zwei also has to incorporate scores and player statistics from the timekeeper, as well as line calls from HawkEye into the programme. Both of these feeds are analogue video, so a Teranex 2D Processor is used to upscale signals. "HawkEye decisions generate fantastic crowd reactions, so it's critical that the video feed is high quality and can be sent to the big screens at any point during the match without delay. We can upscale with a touch of a button and ensure our production is consistent."
The programme mix is uploaded to a VJ playout system and transmitted to multiple big screens around the stadium.
"The flexibility that the Blackmagic Design workflow affords us is a critical success factor," concluded Melik. "Managing so many sources is tricky enough, but the team has to be able to read the crowd's enthusiasm and adapt the production accordingly. It's a massive juggling act, but we can rely on the hardware to ensure spectators get a fantastic show that complements the stunning action taking place on court."