Blackmagic Design to bring mobile demo vehicle to SVG Europe's SportTech Europe 2015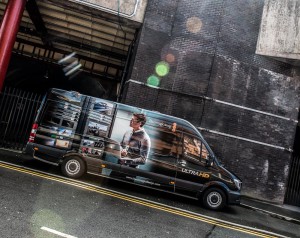 In a major addition to the already-extensive roll-call for SVG Europe's SportTech Europe 2015 event in Manchester next week, Blackmagic Design has announced that it will recreate some of the real-world workflows used in broadcast, live event and post-production within a newly-constructed mobile demonstration vehicle.
Featuring its latest products, including those recently announced at NAB 2015, Blackmagic Design will offer the opportunity to discover and experience these exciting developments on May 7 in Salford, Manchester, as part of SVG Europe's SportTech event conference.
Specifically, there will be the chance to get hands-on with 28 of Blackmagic Design's products, featuring the very latest in Ultra HD, 6G-SDI and 12G-SDI technologies. In addition to supporting Ultra HD, the industry-standard workflows being demonstrated also support SD and HD formats used in production today.
Using the ATEM 2M/E Production Studio 4K and ATEM 2 M/E Broadcast Panel anyone involved in live production can see a complete workflow for creating live Ultra HD content, while the inclusion of a full DaVinci Resolve finishing suite means that post facilities can also get a complete Resolve 4K demonstration.
Don't miss this fantastic addition to SVG Europe's biggest and best conference event to date. For a full programme for SVG Europe's SportTech Europe 2015, and to register, please visit https://www.svgeurope.org/sport-tech-europe-2015/full-programme.