Blue Planet II goes UHD and HDR on BBC iPlayer
Almost one year after launching the first UHD HDR trial for BBC iPlayer, the British Broadcasting Corporation is using Blue Planet II as its second UHD trial. Viewers will be able to watch all seven episodes of Blue Planet II in UHD HDR as long as they have a compatible UHD TV and a suitable broadband connection.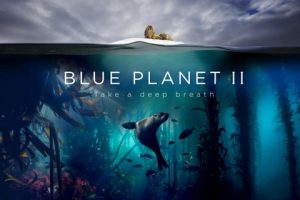 The BBC has been testing some technologies it feels are central to the future of high resolution TV over the past year, including Hybrid-Log Gamma (HLG), a version of HDR the BBC invented with NHK to address the needs of broadcasters, and DVB-DASH (PDF), an open-standard for internet streaming.
As part of these trials, the BBC identified some interoperability issues with DVB-DASH implementations that would have meant few people would have been able to watch the programme on their devices. So instead it decided to make a short four minute clip available to show the potential of the technology to audiences. It also allowed the HDR and Adaptive Bitrate Streaming teams at BBC R&D, along with the BBC iPlayer team, to work closely with device manufacturers to solve the interoperability issues its testing had identified.
The audience feedback from last year's trial was fantastic, said the Corporation, and exceeded its expectations. Even with only four minutes of content, the BBC stated in a blog on the project that, "We were delighted to learn that there is a real audience appetite for better quality pictures, and more of them".
However, the BBC noted the big success from the trial was that it also signalled to TV manufactures that it is committed to the DVB-DASH HLG HDR technologies that underpin BBC iPlayer's UHD streaming. From having just a handful of devices compatible with the BBC's vision for UHD a year ago, there are now around 300 devices from all major TV manufacturers.
As the BBC iPlayer bitstreams use the HLG HDR format viewers do not necessarily need an HDR TV to benefit from the higher UHD resolution and wider colour gamut of the UHD iPlayer bitstreams. Not only is HLG capable of delivering fantastic pictures to HDR screens, but the same HLG signal is also able to deliver high quality "compatible" pictures to standard dynamic range (SDR) UHDTVs, that support the BT.2020 wide colour gamut. Also, the backwards-compatible nature of the HLG signal with SDR UHD TVs increases the size of the audience that are able to benefit from UHD HDR production.
In addition to supporting wide colour gamut, home devices also need to support the DVB-DASH streaming protocol in order to access the UHD iPlayer trial. Adopting the DASH open streaming standard will, in due course, allow the BBC to target the widest possible range of devices.
Just as it did for high definition, with support from BBC Worldwide, the BBC's Natural History Unit has pioneered UHD HDR production at the BBC. The BBC added, "And if HD production is anything to go by, we should expect to see other programme departments start to experiment with HDR as well".
It commented: "Although not as complex as delivering a linear broadcast channel, getting UHD HDR content onto BBC iPlayer still presents significant challenges. The workflow used for last year's Planet Earth II trial was entirely within R&D infrastructure. Our goal with these trials is always to leave the BBC with a better operational capability for the next trial.
"We began planning this year's Blue Planet II UHD HDR trial over the summer, but it was only the first week of November when all seven episodes were finally delivered on an encrypted hard disk drive to BBC R&D in UHD HDR. The UHD version of the series was post-produced in HLG HDR, so we did not need to convert between HDR formats to get it onto BBC iPlayer. However, we still needed to HEVC encode seven one hour UHD programmes, with each programme taking about a day to encode. This is because we need to create up to 11 different versions at different image resolutions, meaning we can target different bandwidth internet connections. Each version is known as a "representation". We also include stereo audio encoded as AAC-LC at 128 kbps."
The BBC uses HEVC (Main 10 Profile, Level 5.1) compression as it supports the 10-bit data path required for the HDR television signal. It is also more efficient than the older 8-bit AVC/H.264 compression used by the majority of the industry for HD streaming, including existing BBC iPlayer services, it said. "The move to HEVC allows us to reduce the bitrate for a given resolution. So, thanks to the DVB-DASH adaptive bitrate streaming, the resolution delivered to viewers on limited bandwidth connections will also improve. The highest HD quality we currently deliver on iPlayer is 1280×720 at 50 fps (720p/50) at around 5 Mbps. By using HEVC, we can increase the resolution to 1600×900, and add both wide colour gamut and HDR for the same bitrate. So even if you have broadband below 20 Mbps your UHD TV should still be able to get better resolution, wide colour gamut and HLG high dynamic range," the BBC noted.
Finally, after HEVC and AAC-LC encoding all representations of the programmes, they were packaged as DVB-DASH "segments" using R&D developed software, and handed over to colleagues in BBC Media Services for hosting and linking into the BBC iPlayer TV App.
The BBC confirmed that over the coming months it will be working closely with colleagues in BBC Media Services to add a UHD HDR encoding capability to their existing iPlayer encoding platform, allowing UHD content to be processed without the need to use R&D's specialist encoding and packaging tools. This will be a significant legacy of the trial, and again improves the BBC's operational capability for the next one. It is also particularly interested in developing live capabilities both in its workflow and home devices.