Broadcast Networks expands team again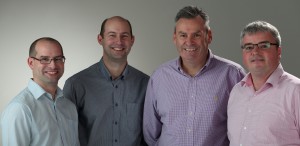 Peter Timmons, Francis Lea, Ben Curtis, Nick Petty and Philip Walters have all joined the systems integration company from Sony Professional Solutions Europe, where they worked closely with Malcolm Robinson, Broadcast Networks' recently appointed director – media & broadcast solutions.
"Our new recruits bring a wealth of knowledge to the company, specifically in the areas of solution design and project management," says Robinson. "The sector-leading expertise we now have on board is phenomenal and we are very excited about the future. These new appointments allow us to grow the business by consolidating the experience already present at Broadcast Networks so that we are better able to deliver game-changing results to our customers."
Solutions architect Peter Timmons gained a wealth of experience at Sony – and prior to that at Harris, Zandar Technologies and BAE Systems. His main strength lies in designing and developing next generation solutions for the broadcast industry.
Proposal bid manager Francis Lea will be looking after OB vehicle tenders and opportunities. His core skills, coupled with the existing Broadcast Networks Bid Team, will ensure that all proposals meet all technical and commercial requirements and incorporate alternative options that will enhance customer choice.
Broadcast engineer Ben Curtis is highly skilled at designing and commissioning technical broadcast systems. While at Sony he worked on numerous high profile projects, including relocating and commissioning a new headquarters for QVC and upgrading the broadcast capabilities at the Parliament Building in The Hague.
Meanwhile, senior 3D design engineers Nick Petty and Philip Walters have joined the Broadcast Networks' design office, where they are adding their design expertise to the look and feel of all Broadcast Networks solutions.