Broadcast Rental heads into the Saudi Arabian desert for live Dakar Rally coverage
Making TV during the Dakar Rally involves dust, a lot of miles and long journeys through foreign lands. Plus the challenge of establishing satellite links to broadcast live, every single day for two weeks. System and RF engineers Jeroen Klaver and Arno Maandonks from Broadcast Rental met those challenges and with SVG Europe they look back on a special adventure in Saudi Arabia.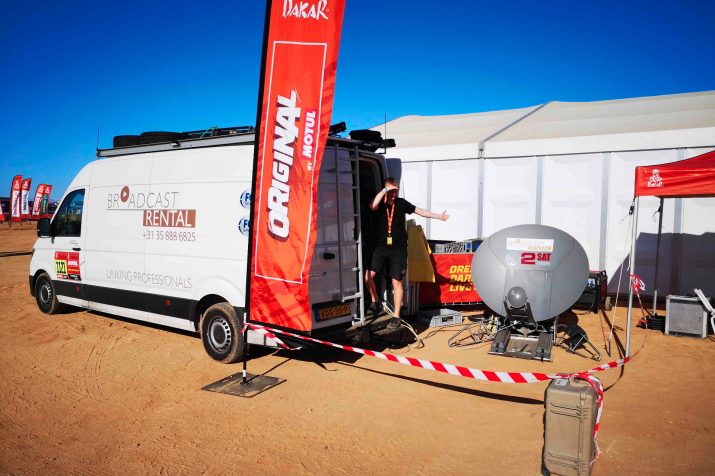 The 2020 Dakar Rally was the 42nd edition of the event and the first edition held in Saudi Arabia. The event started in Jeddah on 5 January and finished in Al-Qiddiya on 17 January, after 12 stages of competition.
When Fox Sports Latin Amerika asked Geert Paul Slee, director and founder of Broadcast Rental, to supply technical facilities for live broadcasts from Dakar, he didn't think twice. Not because it would be a routine job for Broadcast Rental, but because it was one of the few international sports events where the company had not yet earned its spurs. Having delivered the live broadcasts for Fox Sports LA during the first weeks of January, Broadcast Rental can now add the Dakar to its tally.
The idea: a self-supporting media facility with three cameras, which would transmit high quality content to Buenos Aires every day from any conceivable place in the desert. Plus a live one hour magazine straight to TV sets in Latin America. Broadcast Rental purchased a Volkswagen Crafter and started building the system.
In just two weeks the 4×4 was rigged up into a small desert-proof OB Van. A wall was placed to divide the cargo space into two compartments: the production space and room for storage.
The van not only had to carry the equipment for broadcasting and recording, but loads of spare car
parts, sleeping bags, provisions and emergency supplies as well. Add to that an aggregate and the uplink system. For the uplink from Saudi Arabia to MCR in Hilversum Broadcast Rental called on 2Sat. Bas Giskes from 2Sat gave Klaver and Mandoonks a crash course in satellite technology and off they went to Marseille.
All European Dakar cars sail from Marseille to Jeddah. Maandonks said, "when we arrived in Marseille for the inspection and boarding of our cars (which included a camper for the FOX LA crew), we got some funny looks. We were the only media party that brought its own car.
"The media parties usually buy uplink times and cameras from the organisation, which is all facilitated on site. Being self-supporting gave our customer a lot of freedom production-wise. In fact we were dependent on just two things: whether we could reach the bivouac in time without breakdowns and setbacks, and whether the connection would work. And everything went well the entire rally."
An intensive broadcast effort – with sand everywhere
Every day of the Rally a three-camera production was set up in different locations. A stage racer connected two cameras with direction from the 'studio' somewhere in the bivouac. The third wireless camera could be used anywhere in the bivouac.
The programme was switched live on location and sent to Hilversum by satellite. From the MCR at Broadcast Rental's headquarters the broadcast was transmitted to South America by glass fibre. The IFB and communication were retransmitted to location via Hilversum.
"Technically everything went perfectly," said Klaver, "except some minor stuff during test days. Every evening we could make a one-hour live magazine and play content for an hour. As a media facility we were self-supporting. That meant we just had to be practical and solve any issues that came up.
"We were lucky and had practically no setbacks. And when something doesn't go as planned, it helps when you're travelling with two hands-on people. We could repair the car, and technically we could handle any problem. Our biggest challenge was putting our pop-up tents back together in the morning, that's still a hassle!"
As the Broadcast Rental team had no experience with Dakar, they spoke with experienced experts to prepare. The desert is a challenge. What if you can't make it back to the bivouac, or can't eat, take a shower, or fuel up? They brought food for two weeks, emergency flares and a well-filled medical kit.
"In the short time we had to prepare so much was done, researched and learned," said Maandonks. "A big part of the adventure was the country. Saudi Arabia sounded slightly ominous but it was 100% better than we expected. It is first of all a beautiful country, really awesome.
"Yes, there is a lot of sand, no denying that. It's everywhere. We were lucky that when we had a rest day in Riyadh our bivouac was on asphalt. That gave us the chance to take the compressor out and clean the equipment. But the next day all that sand is back of course. Thankfully the sand did not wreck our equipment."
Although Klaver and Maandonks had experience with Broadcast Rental's work for Formula 1 – working from a circuit anywhere in the world for a week – they are convinced that Dakar is something else.
"When you're not sleeping you're driving for 800 kilometres before making a programme. And first you have to get all the technical facilities organised. It is extremely intensive but the funny thing is that you are not aware of that. In the second week of the rally it took us four attempts before we got our aggregate onto the bus. We looked at each other and realised that it does get to you."
Frank Steenbeek, COO of Broadcast Rental, is proud of the team and the whole Dakar experience. "Not
just proud of the boys on location and their amazing technical and physical tour de force, but also of the people in Hilversum who from the MCR monitored the broadcast every day and supported their colleagues on site in other ways as well.
"During the preparations the whole team worked relentlessly. We had never done this before so we had to figure out everything. The packing lists, transportation, we quickly had to make a roof rack for the car, everyone was thinking about potential problems and the solutions. That made it easy to deal with anything that came up.
"This was not business as usual; we had to get out of our comfort zone. But everyone got cracking and the result was awesome. That makes us proud and shows Broadcast Rental at its best."