Broadcast Rental to work with Videosys and DTC on 4K RF system support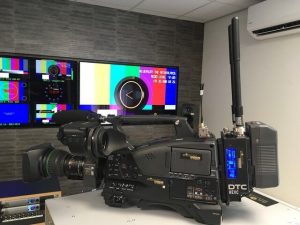 Dutch rental house Broadcast Rental has agreed a partnership with Videosys Broadcast and DTC to develop their RF systems' support to address the 4K/UHD rental market.
GP Slee, CEO of Broadcast Rental, said: "4K/UHD is a growth area and we feel that the combination of the DTC AEON camera-back transmitter with the support of DTC and Videosys Broadcast is the best way to address opportunities in this expanding market. We have therefore made a substantial investment in systems designed by those companies that will help us to grow into new and exciting areas of 4K sports and entertainment production."
DTC's AEON transmitter is known for RF and picture performance, but it was also chosen because of the level of service and assistance provided by DTC and Videosys Broadcast. The AEON transmitter, coupled with application specific modification by Videosys, is described as the only transmitter that offers both 2Ghz and 7Ghz in the same package without the need to swap RF modules. The unit also offers an extensive range of optional upgrades, such as return vision and talkback, that can make a significant cost and time-saving difference to users in the field.
Colin Tomlin, CEO of Videosys Broadcast, explained: "We are proud of our continued service to Broadcast Rental. They are a blue-chip company with an exceptional track record, not only in the field of RF, but across the range of broadcast services. 4K is THE growth area, and both Videosys and Broadcast Rental are well-placed to service the wider broadcast industry."
DTC vice president broadcast sales JP Delport confirmed: "We are very impressed with the respective initiatives of Broadcast Rental and Videosys to integrate AEON TX into key broadcast production systems. AEON's multiple capabilities will enable Broadcast Rental clients to achieve previously unattainable production goals, therefore acquiring and retaining new audiences."
The capabilities of Broadcast Rental have been deployed for many prestigious international productions in recent years, including sporting events such as the Olympics, World Cups and European Championships football.